The idiosyncratic architect: a tome of Peter Marino's artist collaborations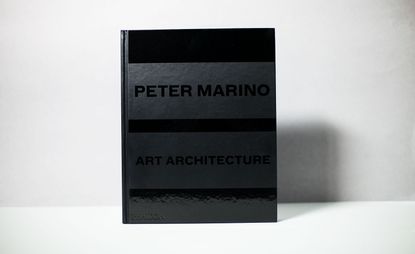 (Image credit: press)
'He has been known to literally move walls to accommodate a great painting and increase ceiling heights to add space for sculpture.' Such is the commentary from Gay Gassmann on starchitect Peter Marino at the beginning of Art Architecture. While some of us know him as the only man on earth to pull off the full leather look and still be taken as a serious architect, this latest new Phaidon tome takes us through the other phases of his oeuvre that make him unique.

From a career that started with an inaugural commission from Andy Warhol, his acclaim sprouted from the specifically commissioned artworks that make a Marino-designed space. Gracefully owning the crown as the fashion-go-to architect for retail spaces, his idiosyncratic limelight is celebrated throughout these artistic pages.

The book arrives in the same sleek jet-black tone as his leather-clad look. This fashion persona was embraced in our very own September 2010 shoot at the maverick's Manhattan studio. Shot bravely with an army of matching waxy soldiers, here he initially told us about the merging of the art and fashion world. 'Isn't it so fabulous that fashion has become so interested in art and architecture!'

Six years later and that intrinsic connection is being honed in on in this Phaidon encyclopaedia of his many artistic collaborations, forming his story as an official patron of multiple creative practices. 'I'm really proud of it. It's a big deal for me.' Marino tells Wallpaper* at the opening of his recent opulent London Dior showroom. 'Phaidon went through our archives and said, "You're the art architect, you commission art, other architects just pick art out and put it on the walls."'

It is with this layer of specialty that make his partnerships epic. Collaborating with the likes of Johan Creten, James Turrell and Qiu Zhijie, all of the distinctive, site-specific commissions navigate different styles. From his Dior makeover in Hong Kong that includes Beth Katleman's installation of porcelain figurines to Tim Hailand's ambitious photographic print across the Toyko space, Marino muses 'The work is actually in the architecture…it's a total room.'

Phaidon also makes a pit stop at works created for Marino's solo exhibition at Miami Beach's Bass Museum of Art in 2014. For this he appointed admired artist Erwin Wurm who formed a skeletal sculpture that is meant to be Marino, covered in just his leather jacket and hat, with a Red Bull in tow. 'I thought that was pretty funny, because everybody goes, "That is you!"' he explains. 'I was actually a bit frightened as when you see a lot of his portraits he exaggerates your stomach or your tongue, so I knew it was going to be a caricature, but I never dreamt it would be this… It's so fantastic the way that artists see you.'

It is not surprising that Art Architecture took nearly two years to curate, including all works commissioned for the Louis Vuitton, Chanel and Bulgari spaces plus private homes travelling Switzerland to Palm Beach. In the thralls of his dazzling commissioned work by some of the world's best artists, Marino left us with a gentle retrospective muse about our 2010 shoot: 'those shots of our studio have become a classic,' – it's true, Marino certainly knows his art.
INFORMATION
Peter Marino: Art Architecture by Brad Goldfarb, £79.95, published by Phaidon and available at WallpaperSTORE*