Size matters: Peter Marino on his latest Bond Street monolith for Dior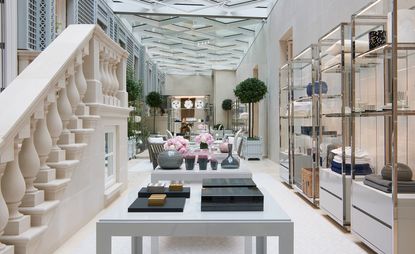 (Image credit: Photography courtesy Dior)
Right now fashion is speeding. So much so that even the industry is having trouble keeping up with who's showing what season, when and where. Designers are coming and going at a similarly frightening pace, only eclipsed by the consumer's insatiable appetite for the next and new. So what's left to hold a brand's ethos steadfast? Their increasingly majestic stores charged with upholding house DNA no matter the season or the creative director in the driver's seat.

And nobody understands this better than star architect Peter Marino, who this week added another luxury Bond Street monolith to his Mayfair Monopoly board – which already includes Louis Vuitton's maison block, Chanel's sumptuous watches and fine jewellery boutique, Bulgari's marble palazzo, and Dior's elegant new hôtel particulier.

'I kinda like taking over the street,' smiles the charming New Yorker, resplendent in a VIP salon of Dior's latest mega structure, which spans two adjoined English townhouses.

Never before has the entire Dior universe been showcased under the one roof as it is here across four floors that effortlessly segue from accessories to ready-to-wear, Dior Home to Baby Dior, in addition to watches and fine jewellery, three couture salons and a basement Dior Homme boutique.

'This is a very big store, even for us,' maintains Marino of the prime retail space. 'The architecture element was a huge construction, a two-year volumetric exercise. And although it was expensive and time consuming, for once instead of just reconditioning existing rooms we had the chance to really create new architecture. We wanted London to be one of the top three stores in the world along with Paris and Seoul,' he says of LVMH's commitment to the project, which is now the biggest Dior store in the UK, if not the world. 'It's supposed to be on that level,' he continues, 'Whereby it's grand, but still intimate in its volumes and encourages people to sit and chat and hopefully admire and try things on.'

Dotted with neo-Louis XVI furnishings and luxuriating an on-brand dove grey and silver colour palette, it is the boutique's richly layered textures that Marino has had the most fun with. In fact his fondest feature is a wall covering that combines his two favourite materials: 'Leather and silver!' he exclaims, acknowledging his signature black FM leather ensemble and heavy chain choker. 'People think it's painted,' he says of the finish that lines another VIP room. 'It's actually leather panels that have been silver leafed. It's the first time I've done it. It makes me insane!'

He's also designed a series of signed and numbered bronze boxes for the brand's growing Dior Home collection – another category that has been given a beautiful new home within the downstairs conservatory, which has been planted with climbing jasmine vines that scent the air. The former site's existing garden had to be maintained, so Marino sought to glass it in and create a feature space: 'The actual design of the glass skylight was quite convoluted and went through many revolutions,' he explains. 'My design office is known to be pretty historically friendly, but here it was complicated. We submitted several designs and it was a very long time in coming to an agreement.' The impressive overhead result reinforces the graphic, rattan 'Cannage' design of Dior's handbags displayed nearby. You can only imagine the security spec given that fine jewellery is housed a stone's throw away.

The site's other major design challenge was the left hand building's brown brick Georgian facade. 'Brown brick is the last thing that anyone would think of for a glamorous French house like Dior,' he adds. 'The ground floor had been modified a lot over the centuries so they said that we could unify that, but we had to keep the exterior. It's a bit of a dichotomy having one in French limestone and one in brown brick, but I think we did it well.' Walking down New Bond Street you would not even think twice.

'There are over 30 artisans involved here,' he reflects. Singling out ceramicist Beth Katleman's porcelain wall feature and sculptor Claude Lelanne's Aluminium banquet, he adds. 'You feel it. It is not a little boutique opening.' Artwork has never been an afterthought for his architect, evidenced by his new Phaidon tome 'Art Architecture' that explores the breadth of his retail commissions and collaborations. Dominating the store's foyer is Tony Cragg's commanding 'Distant Cousin' sculpture, which guards the central 'wrought iron' staircase that's been brought bang up to date with LED screens modelled after Marino's equally magnificent Seoul Dior flagship. The overall message? Onwards and upwards from here.
INFORMATION
For more information, visit the Dior website
Photography courtesy Dior
ADDRESS
160 New Bond St, London W1S 2UE
Receive our daily digest of inspiration, escapism and design stories from around the world direct to your inbox