Uncharted waters: Superyacht Design Symposium pushes the bounds of luxury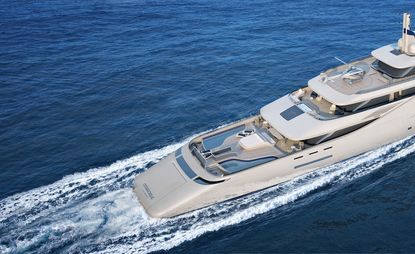 (Image credit: press)
'When I look at the motion industry – cars, motorcycles, boats – the reality is that the boat industry can be far less innovative than the others,' says Lapo Elkann. The entrepreneur and heir to the Fiat fortune is highly critical of the nautical world, pointing out that its designers are guilty of recycling ideas from product to product.

This comment feels somewhat implausible given the event and its audience. We are at the Superyacht Design Symposium, held in the picturesque Austrian ski resort of Kitzbühel. The annual event is designed to attract owners, makers and designers of superyachts, one of the most complex and unusual mode of transport ever devised. For each and every one of these hundred million pound vessels are, by their very nature, prototypes, envisaged, designed and executed for one single client (many of whom seem to be here). Surely the personal touch is at the core of their existence? And how do these hugely expensive objects symbolise modern luxury?

Kitzbühel sees the superyacht community joined by a stellar list of influential designers from across the nautical, airline, automotive, architecture, interiors and fashion worlds, all gathered to discuss how luxury should evolve in the future. The debate is orchestrated by the design critic Stephen Bayley, well known for his own outspoken comments on taste and luxury. For now, it is Elkann who is being candid, continuing his provocations by adding that nautical luxury needs to be a careful blend of craft and innovation. He says that Luca Bassani, founder of Monaco-based maritime design company Wally Yachts, is the last boat maker to do something innovative in the industry.

Elkann's Garage Italia Customs helps fine-tune such luxury toys in motion. A keen yachtsman – he sails a 40-knot Baglietto, tailored by his own firm – Elkann naturally sees the future of luxury in the highest degrees of personalisation. This, he believes, is the ultimate path to true luxury. Modern luxury should be about 'cross contamination', as in the sharing of knowledge and ideas, technology and eco-innovations across all disciplines. 'Together they speak the luxury of today and tomorrow. Sadly most brands are viewing luxury only in the now.'

Axel de Beaufort, the director of design and engineering at Hermès, feels new luxury is increasingly taking on 'authenticity, perfection and the skills of the craftsman.' 'The definition of luxury is the emotion of the object,' he says. 'Hermès has a history of craftsmanship but it is about utilising this and mixing it with new innovations like laser technology.' Renowned yacht designer Tim Heywood also believes the real key to luxury is expressed through the skills of craftsman who build these vessels.

Elsewhere, the designer Ilse Crawford says we need to invest more in the 'immeasurable things' – a term borrowed from Charles Eames – to advance the modernist principals of form follows function and instil emotion into the design of luxury yachts. 'Our job as designers is to find ways of injecting soft value into hard values. It is about relevance, showing that you are part of your time,' she clarifies.

Stefan Sielaff interjects, saying simply, 'I hate the phase form follows function.' The Bentley design director speaks candidly of his aversion. 'I am German, and our design education was very strict, totally dedicated to Bauhaus. Form follows function comes from an almost totalitarian ideology where everything is to be equal, yet joyless, with no irony, no humanity, without love. Later, when I went to the Royal College of Art in London, I learnt a very different perspective. I learnt about humour, irony and love.'

He cites Bentley's most recent show car, the EX 10 Speed 6 concept, as a good example of a product that is a statement of luxury yet full of love, irony and even humour. 'It offers a statement, more than from, say, a technocrat,' he says. Sielaff believes good design should raise human beings to a higher level.

The legendary interior designer Nicky Haslam repeatedly emphasised how luxury and taste cannot be bought, and that a dose of 'magic' is what is needed to express true luxury. 'Good design needs to move you.' Panellist Andrew Winch agrees that good design in all sectors should help make the user smile. The London-based exterior and interior yacht design believes there has to be more focus on humanising the space. 'When you design a yacht you are accommodating a space with many staff who cannot be seen, who are not seen. They are invisible. It is about showing the crew, showing their existence,' says the nautical architect.

Superyacht design is increasingly reliant on close collaborations between the client, designer and maker. Ultimately, the likes of shipyard owners like Peter Lürssen, have to smooth the way for all parties. 'We have to get along with the designers and we have to get along with the owners,' he says. Even so, the designer and manufacturer are still kept relatively separate in the nautical world. Lürssen did employ an in-house designer in the 1990s, but experience proved that clients tend to prefer diversity and the company needed to offer a wide selection of designs.

Pininfarina, the Italian design consultancy best known for its automotive work, also its toes in nautical design. Vice president of Pininfarina Extra, Francesco Lovo, feels luxury in motion is essentially about creating industrial beauty with the customer in its heart. A yacht, he says, 'is about the user experience, it is a matter of process, the emotional experience and how we interpret this.'

His team didn't set out to revolutionise the industry with the grand Ottantacinque, the latest superyacht designed for the Italian shipbuilder Fincantieri Yachts, nor with the meticulously crafted innovative box-rolled Wallycento# designed with Wally Yachts for racing boat maker Persico Marine -– both hugely different propositions in nautical design. The Ottantacinque retains the essence of superyacht design by being 'elegant, sober but not shouting,' Lovo notes, 'and this is part of the spirit of our design philosophy. We simply want the customer to enjoy sailing.'

In the hands of the superyacht builders, ideas of luxury and contemporary design are just too complicated and wide-ranging to ever be easily defined. Although this industry is all about enjoyment, we sense it still hankers after a dose of design credibility.
INFORMATION
'Superyacht Design Symposium' ran from 21 – 23 February 2016. For more information, visit the Boat International website (opens in new tab)