Top shelf: 10 new books to flick through this autumn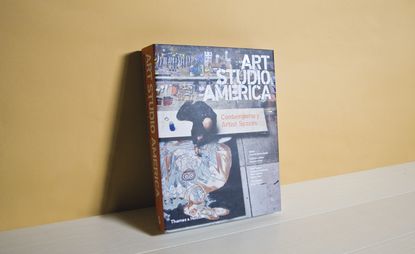 (Image credit: press)
Art Studio America: Contemporary Artist Spaces
Edited by Hossein Amirsadeghi and Maryam Eisler
The creative process is endlessly fascinating, and this new photographic venture looks at the working lives and spaces of more than 100 contemporary artists, including key players from Chuck Close to Raymond Pettibon, Thomas Demand to Taryn Simon. The most striking variation is scale, ranging from the industrial-sized production houses of Jeff Koons right down to the many takes on the traditional garret.

Published by Thames & Hudson (opens in new tab), £65
This Is Mars
Edited and designed by Xavier Barral
NASA has always been generous with its rich bounty of space imagery; it's mostly available online for all to see. But to really soak up the science, strangeness and sheer delight to be found in space exploration, you have to see the images on the page. This Is Mars assembles 150 images of the red planet (albeit in black and white), taken by the Mars Reconnaissance Orbiter over the past few years. Put together by designer Xavier Barral, they create a compelling portrait of the geology of an alien world. Experts are on hand to reveal the science behind the forms.

Published by Aperture (opens in new tab), $100
Eyemazing: The New Collectible Art Photography
By Susan Zadeh

With the contemporary art boom showing no sign of slowing, there have been a slew of publications aiming to inform and educate about negotiating the market. Penned by Susan Zadeh, the founder of Dutch photography magazine Eyemazing, the book combines a survey of established names (including Bettina Reims and Sally Mann) with recommendations for the future, all filtered through the experienced eyes of someone at the epicentre of a dynamic genre.

Published by Thames & Hudson (opens in new tab), £65
Inside The Rainbow: Russian Children's Literature 1920-35: Beautiful Books, Terrible Times
Edited by Julian Rothenstein and Olga Budashevskaya
While illustrated children's books are still a creatively rich publishing niche, back in the early days of Soviet Russia the genre combined two major facets of the emerging Soviet society: propaganda and aesthetic innovation. The Rainbow publishing house enjoyed a brief flowering in the 1920s, the period when the Russian avant garde was riding high on the first wave of optimism and poetry, literature and art could come together to create books with an unprecedented visual sophistication. It didn't last, of course, with many of the artists and authors showcased in this fascinating volume falling victims to the purges that followed.

Published by Redstone Press (opens in new tab), £35
Common Pavilions: The National Pavilions in the Giardini of the Venice Biennale in Essays and Photographs
By Diener & Diener Architects with Gabriele Basilico
Visitors to the Venice Biennale will be familiar with the rich but highly focused cluster of modern architecture in the Giardini, where national pavilions stand as perfectly realised microcosms of their country's dominant architectural ideology. For the 2012 Biennale, Basel-based architects Diener & Diener collaborated with photographer Gabriele Basilico to produce an installation about the pavilions, and these images are now being published in book form, together with the original essays on the history and background of each individual structure.

Published by Scheidegger & Spiess (opens in new tab), €58
Pierdom
By Simon Roberts
The pier has become emblematic of decline. The fading fortunes of British seaside towns are often outlived by the mighty Victorian architecture and engineering that underpin these impressive structures. Simon Roberts has undertaken a photographic survey of the 58 British piers that survive (down from about twice that number in their heyday). Shot using a traditional 4x5 camera, Roberts's beautiful images capture the ethereal strangeness of these buildings, their detachment from reality and their fragility in the face of the elements.

Published by Dewi Lewis Publishing (opens in new tab), £35
Déserteurs
By Stéphanie Solinas
Part book, part artwork, Stéphanie Solinas's Déserteurs is an edition of 100 books, each containing 100 images and made unique with a Braille imprint. Incorporating a series of elegiac images on tombstones in Paris' Père Lachaise Cemetery, the oeuvre features faded grave portraits. Each book has a single, different geo-location embedded in Braille.

Published by RVB Books (opens in new tab), €350
Old Buildings New Forms: New Directions in Architectural Transformations
By Françoise Astorg Bollack
Hidden behind the shiny sight of bold new buildings lies a rather quieter architectural story, that of renovation, restoration and re-use. Old Buildings New Forms is a survey of the very best in rebuilding, with nearly 30 projects from around the world divided up into typologies, including 'parasites', 'wraps', 'insertions' and 'weavings'. The most charismatic of the latter is the cover star: Chipperfield's Neue Museum in Berlin, which remains a masterclass in how to combine sensitive restoration, modern insertions and a respect - almost fetish - for patina and history.

Published by The Monacelli Press (opens in new tab), £40
The New English Landscape
By Ken Worpole, with photographs by Jason Orton
This journey through the world we've created, almost inadvertently, through the rise of the post-industrial landscape, is scattered with pockets of Arcadian optimism or scoured by the demands of trade, technology and the military. Jason Orton's photographs provide an almost forensic insight into a shifting landscape, while Ken Worpole's texts take you inside the strange histories of these emotionally remote spaces. The highly engaging travelogue feels and reads like a journal from a forgotten land.

Published by Field Station (opens in new tab), £15
Still Here
By Lydia Goldblatt
Photographer Lydia Goldblatt has assembled a collection of very personal, intimate images for her new book from Hatje Cantz. Still Here is a meditation on death and decay, its diptych-style presentation adding a spiritual luminosity to a series of photographs that have Goldblatt's own ageing parents at their heart. There's love and tenderness here, but also the unkindness of ageing and decay and the uncertainty of imminent death.

Published by Hatje Cantz Publishers (opens in new tab), €28
Jonathan Bell has written for Wallpaper* magazine since 1999, covering everything from architecture and transport design to books, tech and graphic design. He is now the magazine's Transport and Technology Editor. Jonathan has written and edited 15 books, including Concept Car Design, 21st Century House, and The New Modern House. He is also the host of Wallpaper's first podcast.
You might also like
Chic peas: new art cookbook charts a history of hummus

On the Hummus Route traces a utopian track between cities, people, markets and dinner tables. It documents street food in nine Middle Eastern cities, including Cairo, Jerusalem, Gaza, Tel Aviv, Jaffa, and Damascus, and in doing so, offers a fascinating insight into the area's design, food, and culture

By Elly Parsons • Last updated
View More ▸