Need-to-know technology news from Salone del Mobile 2018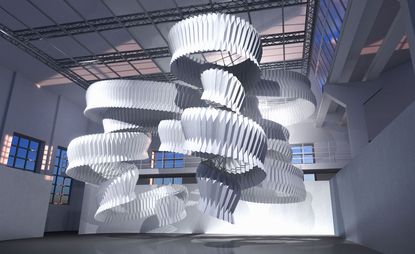 (Image credit: Kengo Kuma and Dassault Système)
The biggest week in the design calender is not necessarily known for its technology offerings. This year, however, tech hunters won't have to look hard for beautifully designed launches, installations and collaborations, as the ever-merging worlds of technology and design continue to conflate. Here's five of our favourites, and where to find them at Salone del Mobile.
Google
Google is making its Salone del Mobile debut, intertwining hardware with soft intuition in an immersive multi-room installation curated by Dutch trend forecaster Lidewij Edelkoort in Rossana Orlandi's gallery. The Google event, titled 'Softwear', will display its tech hardware among everyday objects in comforting lifestyle scenarios.

'Designing and producing our own hardware is a relatively new venture for us and something that is not widely known about especially globally,' says Ivy Ross, Google's vice president of hardware design, on why the software giant decided to show at Milan Design Week. 'We believe that having a presence at Salone del Mobile and sharing our point of view is a great opportunity to connect with others especially in the design industry.'

The relationship between Google and Edelkoort is lengthy, and in a meeting last year, Ross remembers that '[Li] remarked how we were actually delivering on something she had forecast back in 1998... she was thrilled that in many ways, we were bringing that prediction to life without even realising it.' Said forecast predicted a new way of engaging with technology, for it to seamlessly exist in our lives.
Softwear; 17 - 21 April. Rosanna Orlandi, Via Matteo Bandello, 14/16, 20123, Milan
Dassault Systèmes and Kengo Kuma
Sustainable design is set to be a hot topic at this year's Milan Design Week, and this installation from architect Kengo Kuma with 3D experience company Dassault Systèmes, has the important theme at its heart.

Breath/ing is a dynamic, architectural unit made from existing pollution-neutralising materials, addressing the growing global issue of air pollution. As well as being a striking immersive setting, its designers hope the installation inspires designers from across the world to tackle sustainability in their own work.

'This collaboration is inspiring for me because we share similar values and a vision,' Kuma explains. 'I believe that the combination of design and technology can make a huge contribution to the world's environmental issues.' Dassault Systèmes also promises collaborations from Wallpaper* Design Awards 2018 judge Daan Roosegaarde, Wesley Goatley and Superflux.
Design in the Age of Experience; 17 - 22 April; Superstudio Più at 27 via Tortona, 20144, Milan
Panasonic Design
Continuing the theme of air pollution and sustainability, Panasonic Design is presenting an immersive, so-called 'water-drop' pavilion, which will reportedly contain the cleanest, purest air in Milan.

The pavilion marks Panasonic's 100th anniversary. Instead of marking the milestone moment with product launches, it has instead looked outside itself, into the role design will play in improving our future physical environments and emotional wellbeing. The 20 metre-diametre droplet shaped installation is filled with Panasonic's Nanoe X air purification ionization technology, and 'silky fine mist' another proprietary technology which micronises water with high pressured air (in other words, it'll be a cooling, refreshing experience). Inside the dome, Panasonic's ultra-super luminosity projector and high resolution fish-eye lens create highly realistic 4K projection mapping.

It's quite the unexpected move from the tech titan, one that reflects the brand's changing attitude and 'philosophical ethos'. 'Over the past 100 years, Panasonic has improved peoples' lives through technology and physical products, from light bulbs to washing machines, explains Shigeo Usui, director of Panasonic Design. 'Our new creative philosophy focused on the 'culture of life' will allow us to go beyond the physical and enrich the whole culture of a person's life, including health, wellbeing, feelings and experiences.'
Transitions by Panasonic Design; 17 - 22 April. Pinacoteca di Brera, Via Brera, 28, 20121 Milan
Sonos, WeWork and Hay
Hay, WeWork and Sonos are joining forces to display their vision of the future of design inside the charmingly guilded Palazzo Clerici. For the installation, Hay and WeWork will present an office-like set up that will challenge typical working environments via some nifty research from the co-working titans and Hay's new shelving and storage system. Expect a mesh of contemporary function with historic Milanese chic.

Sonos' part of the launch is an exclusive new take on the Sonos One smart speaker, which was released last year. Custom designed to match perfectly with HAY's existing color palette, the collection will come in shades of red, green and yellow (pictured above), and will be available for purchase from September 2018.
17-22 April; Palazzo Clerici, Via Clerici, 5, Milan
Sony
Like Google, Sony is keen to promote technology's ability to seamlessly merge with our daily lives, comfortingly as opposed to intrusively. Its exhibition 'Hidden Senses' showcases possible interactions between people, objects and spaces, where technology melds beautifully, and functionally, into the background. 'The experience we propose brings forward a more comfortable lifestyle, merging design and technology to create unique emotional experiences involving all of our senses,' explains the tech titan.

The exhibition is composed of five case study areas, in which so-called 'Hidden Senses' are revealed step by step – from pure sound experience, to everyday furniture and lighting that helps us to visualise information.
April 17-22; Spazio Zegna, Via Savona 56/A, Milan
BeoPlay
Few do Scandinavian design with immersive sound better that BeoPlay. The Danish speaker stalwart this week introduced the latest portable to its growing family. Designed by friend of the brand Cecilie Manz, the P6 is (as with all BeoPlay products) built from premium materials. The cool pearl blasted aluminium enclosure ensures an even dispersion of its rich, True360 Bang & Olufsen signature sound.Meanwhile, the double layered leather strap offers a warm contrast to the metal and provides easy portability. Inspired by Bang & Olufsen's Beomaster 6000, the control buttons are milled out of a single piece of aluminium.

'With Beoplay P6, we redefined the archetype of working with aluminium by pushing the physical limits of the material, highlighting the three-dimensional shells and its hole pattern as much as possible,' says Manz, who recently became Maison&Objet's Designer of the Year. 'This detail gives a distinctive character, such that the sound is spread evenly and shared with people around you in all directions.'
INFORMATION
Find all the Salone del Mobile best bits on our interactive map
Elly Parsons is the Digital Editor of Wallpaper*, where she oversees Wallpaper.com and its social platforms. She has been with the brand since 2015 in various roles, spending time as digital writer – specialising in art, technology and contemporary culture – and as deputy digital editor. She was shortlisted for a PPA Award in 2017, has written extensively for many publications, and has contributed to three books. She is a guest lecturer in digital journalism at Goldsmiths University, London, where she also holds a masters degree in creative writing. Now, her main areas of expertise include content strategy, audience engagement, and social media.