Is Pink Fish restaurant Norway's healthy, sustainable answer to McDonald's?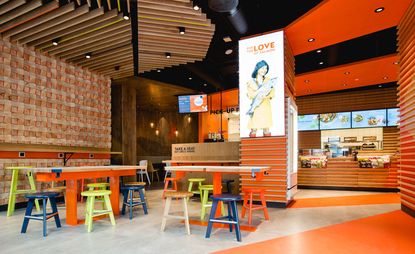 (Image credit: press)
Could salmon give the McNugget a run for its money? Norwegian chef and winner of the prestigious Bocuse d'Or Geir Skeie thinks so.
With co-founder Ronny Gjøse, he's set up Pink Fish, a 'fast-casual' restaurant that offers top-quality Norwegian salmon certified farms, served in burgers, wraps, salads, hotpots and raw.
The fledgling (or should that be fry?) brand debuted in Oslo and opens in Bergen in July; three more Oslo sites will be followed by more in Norway, and its first overseas outlet is earmarked for Singapore in spring 2019, with plans for China. 'The large international expansion we are working towards will happen via franchise partners or joint ventures,' says Gjøse.
The chain's name, logo and interiors were created by London agency Portland Design, who also came up with the slogan 'from fjord to fork'.
Diners in a rush can take a seat at benches, while those there to socialise sit at high-seated shared tables. In one corner, Portland has set up a cosy 'hygge' zone, for those with time on their hands. Timber abounds, and there are fishy hints in the aesthetics, like the engraved fish scale pattern on much of the furniture, and the angled wooden blocks on the walls, which are inspired by the structure of salmon skin.
As well as high streets, shopping centres and train stations, Pink Fish is keen to appear in airports. Portland has designed tables to accommodate the 80 per cent of airline passengers who travel alone. 'It can sometimes seem a problem to ask to share tables,' says Portland's Lewis Allen, so the table tops have a 5cm-grove down their centre, to reassure a solitary diner that it's OK to sit down.
INFORMATION
For more information, visit the Pink Fish website (opens in new tab)