Revolutionary magazine covers since the 1950s 'Uncovered' in a new book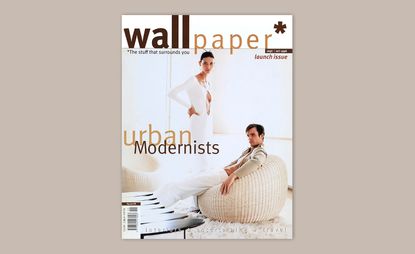 (Image credit: press)
As the age-old adage goes, 'There is no such thing as a good magazine with a bad cover.' This is the theme of Uncovered, a new book detailing the most iconic, provocative and memorable British and American magazine covers to emerge during the last 60 years.
The fruit of two years of meticulous research by author and media veteran, Ian Birch, this unique social archive presents a rounded chronology of the newsstand cover's power as a crucial marketing tool. Birch tracked down and interviewed over 150 key people from titles like Vogue, Wallpaper*, Esquire, The New Yorker, i-D, The Face, Private Eye, and Rolling Stone to highlight the long and often turbulent process of executing a cover that defines and justifies its content.
The visual chronicle begins in the late 1950s, tracing cultural and political shifts, moments that shattered conventions and covers that made history through to present day. 'I end when covers were re-energised by the twin political thunderbolts of Brexit and Trump, and the warped speed of the political news cycle,' says Birch.
Among the honour roll is the cover of Wallpaper's first issue, from September/October 1996. Sexy, slick and style-savvy, it showed a pair of models wearing clad in Tom Ford's Gucci (she in a daring cut-out dress, he in a beige open cardigan and relaxed fit white trousers), sauntering about minimalist loft of Walter Schupfer in New York. It was the world of Wallpaper* – contemporary fashion, lifestyle, architecture, interiors – brimming with idealism and tied neatly in a single composition. 'Culture went to some very dark places then, like heroin chic, but we wanted to be that constant on the horizon which was sunny and positive and our own place,' recalls our founding editor, Tyler Brûle. 'It was ahead of its time then but now it's completely mainstream,' adds Tony Chambers, editor-in-chief from 2007-2017.
Some covers have even been honoured in their own exhibition, such as George Lois' 92 creative offerings for Esquire (see above), displayed at MoMA in 2008. In conversation with his frequent photography partner, Carl Fisher, Lois recounts the stories behind his most distinctive visuals for Uncovered – including a black Santa Claus modeled by boxer Sonny Liston (in 1963, a pivotal year for the Civil Rights Movement), Muhammad Ali posing as San Sebastian (1968, an homage to the sporting legend's draft resistance), and Andy Warhol drowning in a can of Campbell soup (1969, a comment on the absurdity of fame).
The book is a tribute to the cover lines that shocked, the images that collared taboos and sparked debate, and the creations that augmented the possibilities of print media. It discusses the cover's capacity to generate an immediate emotional response in a world where success is marked by an ability to attract, seduce and inform prospective readers. Throughout, Birch seeks to define the ultimate cover formula, whether through graphic minimalism, conceptual potency, intense eye contact or lack of 'cover line clutter.' If there's ever been such a thing as 'the perfect cover' to distil and amplify the voice of a title, it's very likely be found in Uncovered.
INFORMATION
Uncovered: Revolutionary Magazine Covers published by Cassell. For more information, visit the Amazon website
Receive our daily digest of inspiration, escapism and design stories from around the world direct to your inbox
Harriet Lloyd-Smith was the Arts Editor of Wallpaper*, responsible for the art pages across digital and print, including profiles, exhibition reviews, and contemporary art collaborations. She started at Wallpaper* in 2017 and has written for leading contemporary art publications, auction houses and arts charities, and lectured on review writing and art journalism. When she's not writing about art, she's making her own.
You might also like
Chic peas: new art cookbook charts a history of hummus

On the Hummus Route traces a utopian track between cities, people, markets and dinner tables. It documents street food in nine Middle Eastern cities, including Cairo, Jerusalem, Gaza, Tel Aviv, Jaffa, and Damascus, and in doing so, offers a fascinating insight into the area's design, food, and culture

By Elly Parsons Last updated
View More ▸