Boano Prišmontas' portable tea house blends Japanese ritual with modern functionality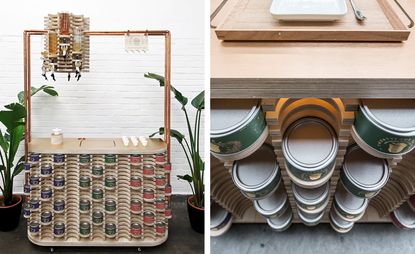 (Image credit: TBC)
London-based architecture firm Boano Prišmontas has collaborated with contemporary tea house TwentyFour Solar to create a Portable Tea House, inspired by traditional Japanese rituals.

TwentyFour Solar aims to inspire the world to enjoy the traditional art of tea without all the pomp and ceremony. As such, the adaptable and movable structure conforms with contemporary lifestyles, while retaining the quality and antmosphere of Chinese tea blends. Producing hot teas and cold brews, the house has two components. The first is an interchangeable display counter to showcase the oxygen-free colourful tea tins, featuring fragrant caramel oolong, deep steamed Okuyame Sencha, Formosa Black Tea, and more. The other is a suspended complex which holds the cold brew bottles.

A hot teapot is arranged on the countertop where a groove disguises a sink, gathering any spilt liquid. Birch plywood is used to give the structure a simple yet sophisticated look while the oxidised copper counter echoes the oxidising process of the cold brew, invoking the essence of a traditional tea factory.
INFORMATION
boanoprismontas.com (opens in new tab); twentyfoursolar.com (opens in new tab)