Porsche 911 Targa 4 and 4S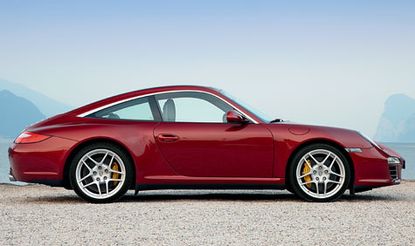 (Image credit: TBC)
Porsche introduced an innovative open-air driving experience in 1965 when it positioned the new 911 Targa as 'neither a cabriolet nor a coupe, neither a hardtop nor a saloon.' By mounting a flexible, manually removable folding glass roof on the 911, the niche carmaker gave the world the option of safer topless driving. The Targa was an immediate success, scooping just under half of 911 sales by the early 70s.
Click here to see more of the Porsche Targa.
Porsche's latest Targa is as fresh a concept as the original. Now electrically-operated, the elegant 1.54sqm panoramic glass structure, UV-filtered to stop harmful rays entering the serene cabin, still offers the freedom associated with open-air driving, minus the security risks. The roof is made up of two segments; the sliding module at the front opens up half a metre, gliding seamlessly beneath the tailgate in just seven seconds, while the top-hinged tailgate opens wide to accommodate luggage.
The Targa stays true to the original Ferdinand Porsche-designed 911, with form highly governed by aerodynamics; the roof sweeping down at a very early stage, merging smoothly into the low rear end. The body stays well clear of sharp edges, allowing the new Targa to retain the emotional kick of Porsche's most famous model, a faithful marriage of timeless beauty and the promise of a thrilling drive.
The Targa completes the 911 family of coupe and convertible. Right now it's only available with all-wheel-drive, with the choice of two high-pressure direct injection engines, and the tired old automatic gearbox has been replaced by Porsche's snappy new PDK automated manual system.
The subtle manipulation of LED technology has helped update the look. At the front there are new daytime running lights and tastefully executed rear LED lamps. 'The bar at the front will say Porsche at night,' explains Matthias Kulla, general manager of exterior design. 'The LEDs in the rear define certain motifs that showcase the car in the dark.'
Other notable changes can be seen in the car's 'hips', which have been widened by 44mm to accommodate the extra mechanics. 'It also helps carry the visual design of the roof,' notes Kulla. 'All the new elements are functional. They are not about styling, or simple decoration.' Porsche has reclaimed the Targa from the 70s - our example was finished in stylish brown - and in the process made a seriously contemporary statement.