Porsche 911 GT3 RS: an evolution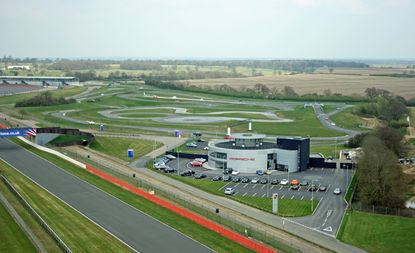 (Image credit: TBC)
When Porsche (opens in new tab) invited us to have a retrospective sampling of one of the German marque's most iconic racing models our response was to down tools and head straight for the nearest exit.

Introduced in 2006, the 911 (997) GT3 RS Gen 1 was built primarily to facilitate Porsche's desire to go racing. In order for the GT3 RS to compete, Porsche had to satisfy the rules by manufacturing a certain number for public consumption. The company's famed thirst for continuous improvement has since seen two further generations of the 997 GT3 RS, the 2010 3.8L and the 2011 4.0L.

Pristine examples of all three cars were conveniently placed at our disposal at the Porsche Experience Centre (opens in new tab) at Silverstone in Northamptonshire. This facility was opened in 2008 and although it could initially be mistaken for a multi faceted playground for the brashest petrol head amongst us, it's actually rather more sophisticated. Consider it more of a training facility, designed to optimise vehicle/driver capability, than a tyre-smoking free for all for weekend racers.

Highly experienced driving consultants are on hand to guide you through the well- designed zones, including an Ice Hill and Kick Plate, intended to replicate low friction and surfaces lacking grip respectively. Here we learned the dark arts of throttle control and the distant limits of a GT3's grip

The Centre's handling circuit is a rather more traditional affair, replicating a typical B road through a suite of tight, twisty, elevated peaks and some equally tricky subtle camber changes. We begin with the garish orange and black liveried Generation 1 car from 2006, a synthesis of every visual characteristic Porsche holds dear. The best part of a decade down the line and the Generation 1 remains aggressive, planted and elegant at rest.

Inside however, the racing seats pinch, the clutch is heavy and the mechanical whirring from the engine leaves little doubt that this car is built with racing in mind. The 3.6 litre engine generates electric pace but it's more of a wrestling bout than smooth circuits of the track, even with traction control engaged.

Thankfully, once we've transferred to the 2010 GT3 RS - a similarly aggressive looking beast - we get an altogether more satisfying driving experience. The second-generation model proves a welcome compromise, with supportive, slightly widened seats, a lighter clutch and more accommodation to the daily grind with a cabin that's an overall more comfortable environment. At speed, the 2010 car instils driver confidence and quick laps are finally discovered - thanks to well-placed pointers from our expert passenger. All in all, it's a much calmer, less frenetic experience than in the original model.

Finally we come to the 2011 GT3 RS. To say that our instructor is an advocate of this car would be the hugest of understatements. At first glance the final 997 GT3 RS (Porsche did not engineer another in the 991 generation) is recognised by its aerodynamic advancements at the front end of the car, with elements taken directly from its race-prepared sibling. In fact, it was one of the first street legal production cars to include race derived aero.

Porsche wanted to improve on the already accomplished 2010 3.8 and the 2011 4.0 is that and more. Only 600 were earmarked for production worldwide at a price tag of £128,500, a fitting swan song for the 997 GT3 RS. Previous GT3 RS owners will jump to the front of the order book but by no means will securing one be as simple for others. Demand will far outstrip supply making an already attractive prospect more so in the ever-developing iconic 911 story.

Enthusiasts looking to see how the current 911 series (opens in new tab) - the 991 - will fare as a full blooded track machine will have to wait a little longer. A new GT3 isn't due to be unveiled until this year's Geneva Motor Show (opens in new tab) and the fabled 'RS' incarnation might not arrive until 2015.