On the tip of my tongue: Nendo's chocolates give texture a taste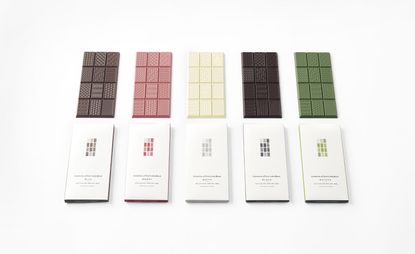 (Image credit: Akihiro Yoshida)
Japanese design company Nendo has created new chocolates for their 'by | n' range, that emphasise texture while also delivering on taste. Released in 2015, 'chocolatetexture' maintained a conventional chocolate texture, while playing around with form and placement; bringing to the fore questions on how the way the chocolate was being consumed – when bitten, swallowed or melted – impacted on the taste itself.

The 'chocolatetexturebar' takes this concept a bite further. The bar is divided into 12 segments, each with unique striped, dotted, zigzagged and chequered patterns that allow one to enter a hypothetical 'new taste dimension' via subtle haptic differentiation. The bar comes in five different flavours: milk, strawberry, white, bitter and matcha.

To accompany the bar is the 'chocolatemixer'. Bottled in tiny test tubes are dried mango and raspberry candies, popping sweets that explode with flavour and heart-shaped sugar puffs to be custom-added to flask-like chocolates by lifting their white chocolate lids. Making a perfect concoction of one part flavour, one part feel has never been such fun.

Both 'chocolatetexturebar' and 'chocolatemixer' are set to be released in February.
INFORMATION
For more information, visit Nendo's website (opens in new tab)