LA Design Challenge 2011: Mercedes Silver Arrow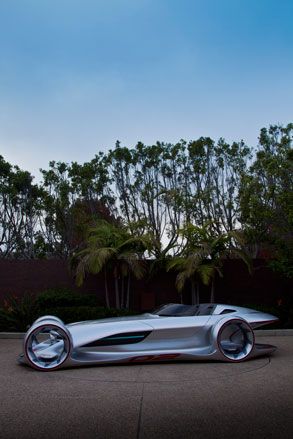 (Image credit: TBC)
The classic 1930s and 1950s Silver Arrows from Mercedes count as some of the most beautiful racing cars ever designed. But what might a 21st Century version look like? 38-year old Korean-American Hubert Lee - the creative director of Mercedes' LA design operation - asked the same question and created a new Mercedes Silver Arrow for the 2011
LA auto show design competition, the LA Design Challenge.
Intended to push creative teams to the limits, with sci-fi scenarios and outrageous technologies, the Design Challenge is a snapshot of industry blue sky thinking. Wallpaper* caught up with Lee at his Carlsbad, California studio, to discuss his new concept, past design hits and inspirations.
What were your influences for this incredible-looking car?
Hubert Lee: The theme for the 2011 LA Design Challenge competition was a car for a futuristic Hollywood movie so we looked at many influences, but Syd Mead was definitely one. We started with a storyboard and made a comic book. That gave us our idea of what the car should be.
Can you explain how those great hub-less wheels would work?
Under the silver wheel shells are omni-directional diagonal rubber sections on a roller that allow steering in all directions. The technology already exists on some forklift trucks.
How would you get in and out of the vehicle?
The idea is that the whole dashboard, bonnet and front grille slides forward as one section into the scooped area between the front wheels to create the space for the doors to open up, scissor-style. This is just a concept made of fibre reinforced plastic (FRP) though. There's no real interior to access.
What's its purpose, beyond the competition?
After the success of our Biome concept for last year's LA Design Challenge we wanted to create more of an 'entertainment design' this year. It's not too serious and the project gives designers more freedom than usual. It's also a good way to show the world that Mercedes is not afraid to make a statement.
Beyond concepts, do any production cars bear your design stamp?
The current CLS is a recent one. From original sketch to the final model, I got to do everything. I was lucky, but I had a lot of help from [global head of Mercedes-Benz design] Gorden Wagener.
Does your California location help your work process?
The weather is key, when you walk out of the studio into bright sun you're just like 'wow'. It makes you happy and more positive, and that trickles down to your work. I don't want to knock Germany but if you walk out and everything's gloomy, foggy and grey, it's a drag. When you're happy, you get more inspiration. Also there's the diversity of LA. There's a big car culture here and as soon as you get on the freeway, you see every make of car and every type of people.
Do you think your Korean-American background has any bearing on how you design?
Yes, very much. I was born and raised in Glendale, California but lived in Seoul through high school. My parents moved back so I go there once a year. My perception of what a Mercedes should be comes very much from my time in Korea - silver, not trying too hard, stately, elegant.

Receive our daily digest of inspiration, escapism and design stories from around the world direct to your inbox
Guy Bird is a London-based writer, editor and consultant specialising in cars and car design, but also covers aviation, architecture, street art, sneakers and music. His journalistic experience spans more than 25 years in the UK and global industry. See more at www.guybird.com