Scents and sensibility: Jonathan Anderson's first Loewe perfumes return the brand to square one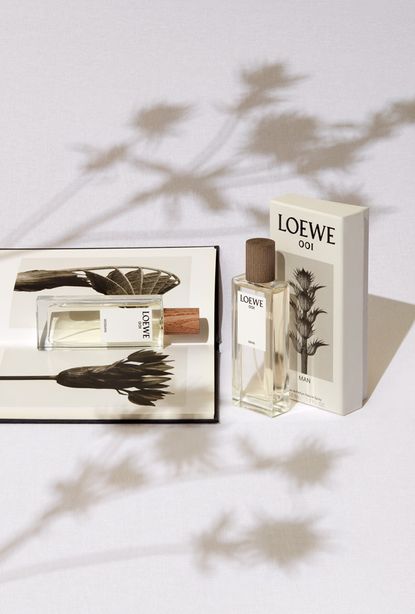 (Image credit: William Bunce)
Since LVMH appointed Jonathan Anderson as creative director at Loewe in 2014, the plaudits have landed thick and fast, as the thirtysomething from Magherafelt in Northern Ireland has taken the once-staid Spanish luxury brand and given it an infusion of cool.

Having reinvented its men's and women's fashion lines and begun to revamp its retail spaces, he has now turned his attention to perfume – potentially the biggest earner of them all. Anderson's concept for 'Loewe 001' is clear enough. 'The name indicates a new start for the brand,' he says. 'Loewe has done perfumes since 1947, but this is the first time perfume and fashion have been combined.' Indeed, up to now Parfums Loewe has been a separate company, with its own separate website, and it's easy to guess that Anderson has been itching to integrate the two. Developed in collaboration with Parfums Loewe's in-house perfumer, Emilio Valeros, 'Loewe 001' comes in two versions, '001 Woman' and '001 Man', bucking the current unisex trend. Both are stylish scents, designed to complement each other.

'I wanted the perfumes to be on the tipping point between masculinity and femininity,' says Anderson, 'so you could wear your girlfriend's perfume or she could wear yours.' Anderson is a relative newcomer to the world of scent (he still references 'CK Crave' as a personal favourite – 'the one with the guy with long hair and the amazing body'), and where '001' really scores is in its design. The simple, restrained bottles have ash-wood tops, and the elegant boxes, by regular Anderson collaborators M/M (Paris) with paper from James Cropper, cleverly open like books, decorated with beautiful botanical photographs by Karl Blossfeldt.
INFORMATION
For more information, visit the Loewe website

Photography: William Bunce. Set design: Bryony Edwards