Henrichs launches a reflective hi-vis collection for design-conscious cyclists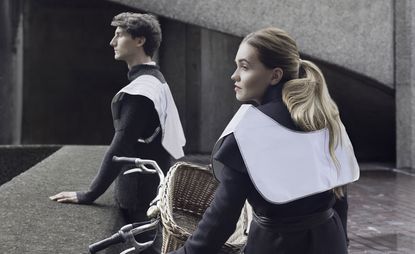 (Image credit: Kavan Olbison)
Wallpaper's former travel editor Sara Henrichs has combined her passion for cycling and fashion to create a new range of hi-vis accessories (opens in new tab) using highly technical reflective 3M fabrics by Swiss textile brand Schoeller (opens in new tab).

A veteran urban cyclist herself, Henrichs is based in London where the number of cyclists has increased by 75 per cent since 2005. Injuries are likewise on the rise and Henrichs - who studied fashion design and worked for Jil Sander and Hermès before moving into travel journalism - is hoping her designs will encourage fashion-conscious riders to don safety apparel before hitting the roads.

The new collection comprises capes, vests, collars and bands, which are all easily thrown on over everyday clothes and can be rolled up to fit neatly inside a backpack. Toddlers and pooches have also gotten the hi-vis treatment, her cape designs modelled after knights' armour and angel wings.

The pieces are both water and windproof, offering extreme visibility in the dark by up to 100 metres, especially in the glare of car and streetlights. Each item is manufactured in a London-based workshop, and come practically packaged with a closure that doubles as a reflective armband.

Currently, there are few products around that combine high visibility and quality with stylish design. We're certainly inclined to hop back on the saddle with Henrichs' forward-thinking range.