Le grand fromage: Ich&Kar's cheese-themed concept store in New York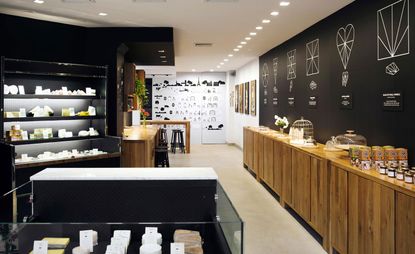 (Image credit: Pascal Perich)
New York's Nolita is perhaps downtown's coolest neighbourhood for good reason. The district boasts many a trendy haunts, and now there's a new address that just made its debut: French Cheese Board, a concept store that successfully merges art, design and food. By combining a cheese shop with designer tableware and accessories, a culture lab where interactive experiences invite the public to take part in showcases and events, and a gallery to house art and design exhibitions such as Ich&Kar's 'Pièces Montées', or 'Edible Architecture' series in which gastronomy and art become one, cheese connoisseurs and the curious alike can sample some of the finest fromage in town.

With an ambition 'to become an ambassador of French cheese culture and a platform for conversations and debates related to the topic of nutrition and related issues,' the French Cheese Board puts food at the centrepiece. Its lab will host cooking lessons, wine and cheese pairings sessions and feature presentations to educate all on the art and craft of cheese, for instance, how to cut each cheese according to a specific pattern. The boutique stocks the latest cookware, including French cutlery designer Christian Ghion, tableware by Bourdeaux-based designer Caroline Gomez and accessories by Made In Design. There's also a wine and cheese club, pop-up days, a library that is filled with cookbooks, master classes targeting knowledge seekers and food lovers, and conferences with a panel of experts leading a discussion on the science of taste.

French duo Ich&Kar designed the interior of the French Cheese Board, with the intention to make the interior design a part of the education, as graphic murals, like the detailed map on cheese origins, have been designed as learning tools, giving the space a more playful feel. As their first interior design project, Ich&Kar strived to create a space with a strong identity, reflecting French culture. Black was chosen as the main statement of the venue for its timeless and elegant feel, but has been balanced by the solid oak furniture for a more grounded ambience. 'Think out of the box' is the motto that motivates their work, a perfect match for the French Cheese Board, as both are dedicated to enjoying the essence of the French art de vivre.
INFORMATION
For more information, visit the French Cheese Board website and Ich&Kar's website (opens in new tab)
Photography: Pascal Perich
ADDRESS
French Cheese Board
41 Spring Street
New York, NY 10012
VIEW GOOGLE MAPS (opens in new tab)