The top 10 concept cars unveiled at Frankfurt Motor Show 2017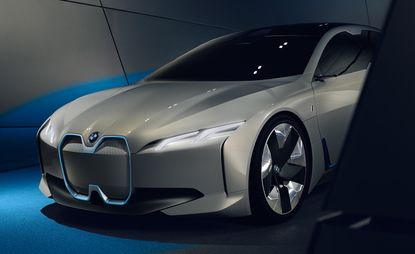 (Image credit: BMW)
Wallpaper* Newsletter
Receive our daily digest of inspiration, escapism and design stories from around the world direct to your inbox
Thank you for signing up to Wallpaper. You will receive a verification email shortly.
There was a problem. Please refresh the page and try again.
The Frankfurt Motor Show is traditionally a time for the big three German car marques to flex their muscles – their respective oversized pavilions bursting with shinny products. It can be a bit of a spectacle, overshadowing others, certainly smaller makers who tend to stay away. This year was no exception with the BMW, Daimler and Volkswagen groups seizing the limelight.

The overarching theme was, of course, electrification. As the era of the gasoline car drifts into a close, any carmaker wishing to survive the next chapter has committed to electrified products in the next decade – and so the Frankfurt Messe was packed with clean, autonomous driving concepts, and a few realities too.

BMW showed the second-iteration to the i3 electric production city car, as well as a couple of study vehicles - the i Vision Dynamics as a prelude to a mid-size vehicle in the electric sub-brand and the Electric Mini. Audi's Aicon is an autonomous electric concept with no pedals or a steering wheel. While, Mercedes presented the all-electric compact Concept EQA and the Smart Vision EQ Fortwo driverless shared urban car. Then, just to prove electrification doesn't always mean boring, through its high-performance AMG arm, the marque debuted Project One, a hybrid hypercar, boasting F1 technology and £2 price tag.
Mercedes-AMG Project One concept
Project One by Mercedes-AMG brings Formula One technology from race track to the road. Engineered at the Mercedes performance arm with close collaboration with F1 experts, this dramatic high-performance hybrid hypercar boasts 1,000 horsepower, and a top speed of 217mph. Project One celebrates AMG's 50th anniversary. It will be made in very limited numbers with prices said to be around £2.3m. Together with the four-door AMG GT Concept, it provides another insight into the future performance-hybrid drive strategy of the sports car brand within Mercedes-Benz.


BMW i Vision Dynamics
The BMW i Vision Dynamics is much more than a futuristic conceptual study. This four-door gran coupé is the prelude to an electric production car, a mid-size model to sit somewhere between the electric i3 city car and the i8 supercar. When produced – dates haven't been confirmed – it will be the third product within BMW i electric sub-brand set up six years ago.

By 2025, BMW has promised to release 25 models with an electrified drive system, of which 12 will be pure-electric, and i Vision is an indication as to how far the marque is willing to explore its design language in the age of electrification. Much like the two i cars that came before it, this latest study involves enough experimentation to stand apart from the mainstream cars, while retaining a family link through translating some of BMW's classic elements – the long wheelbase and flowing roof, and the 'kidney' grille, closed here and flanked by slim LED lights.


Audi Aicon
The Audi Aicon is a fully autonomous electric concept car without driving pedals or a steering wheel. Seats slide back and forth so the car can be configured from two to four seats. Aicon offers a luxurious cabin environment, where occupants are encouraged to get on with their daily chores, make calls, watch movies, browse the internet, using the touch-screen control panels. Audi says the design team were inspired by luxurious private and first-class airline cabins. Aicon is purely conceptual at this stage, yet Audi is promising 348 horsepower and 405 lb-ft of torque, and a 500-mile electric range on a single charge.


Mercedes-Benz Concept EQA
Mercedes-Benz has promised to bring ten new electric vehicles to market by 2022 under the EQ banner. The EQA concept is the latest in the series, and the first all-electric car in the company's entry-level compact A class. Company CEO Dr Dieter Zetsche says Concept EQA proves that the marque 'is serious about introducing electric mobility throughout the portfolio'.
EQA is a three-door model designed around the marque's 'sensual purity' theme and what design chief Gorden Wagener calls 'progressive luxury'. The front and rear lights are laser fibres – the spiral-shaped light design evoking the copper windings of an electric motor and the animation visualising electrical impulses, says the company. There is no grille here, instead the black front panel has an LED matrix that alters according to the selected drive programme.


Volkswagen ID Crozz concept
Volkswagen's ID Crozz concept previews a high-riding electric crossover vehicle expected to go into production in three years. The third member in a new family of zero-emission cars, it forms part of the company's ambitious eco plans aiming for up to a million electric car sales by the middle of the next decade. ID Crozz II continues the theme explored with concept vehicle exhibited at the Shanghai Show in April, refining elements such as introducing a new light graphics. The shape is a bit of hybrid, combining sportcar aesthetics with off-road capabilities, and it shares a modular platform and electric drive with its siblings, ID Hatchback and ID Buzz.


Smart Vision EQ Fortwo
Vision EQ Fortwo by Mercedes-Smart is a small toy-like fully-autonomous urban concept. It explores future urban mobility, ideas surrounding shared transport and personalisation by being both a public and personal pod. The two-seater Vision EQ has no steering wheel or driving pedals for a relatively roomy cabin. The 'black panel grille' will allow the user to recognise the car by displaying their name. It is controlled via complex algorithms but, much like Uber, responds to smartphones and has voice control. It also doubles up to do parcel deliveries at night.


Honda Urban EV Concept
The Honda Urban EV is just that – a concept study of an all-electric city car to be produced for Europe in 2019. The Japanese firm is aiming to have electrified technology in two thirds of its new cars by 2030. Here the design is simple, the proportions low and wide. Urban EV can accommodate four to five passengers across two bench seats. This and the proportions appear to be a nod to kei cars, the little boxy run-arounds plentiful on Japan's busy city streets yet sadly never popularised in Europe. Urban EV is built on a completely new platform, and showcases advanced technology. A screen displays interactive messages for driver and passengers to communicate while on the road. The Honda badge is backlit in blue, which previews a new feature for the company's future EVs.


Mini Electric Concept
The Mini Electric Concept is simply just that, an electric model to join the family in 2019. Mini began experimenting with electric drives as far back as 2000, conducting trials, yet this latest concept is very much production ready. Mini Electric will share driving components of the revised BMW i3. The proportions are very Mini too, with design features to clearly set it apart – a closed grille, new light treatments with a union jack appearing in the rear, and plenty of aero elements to visually express the car's clean drive.


BMW X7 iPerformance
This Concept X7 iPerformance previews a new model to join BMW's expanding crossover, or as the company likes to call this segment 'sports activity vehicle', family. BMW says X7 gives a clear idea as of what to expect when a production model arrives next year. It will join the 7 Series family – visually indicated by the metal strip between the lights at the rear - forming part of BMW's plans to substantially increase sales in this luxury space.

The X7 has three rows of two seats, but the production car will use a more conventional two-row layout. The minimal body lines and more subtle sculpting continues the design revisions as seen on the recent Concept 8 Series and Z4. The upright grille and slim headlights feel like a nod to BMW's former premium cars, namely the 3000 Coupés.

BMW X7 is offered with both petrol and plug-in-hybrid. Ian Robertson, member of the management board responsible for sales and branding says X7 'demonstrates it's perfectly possible to combine a large sports activity vehicle with an electrified drivetrain.'


Renault Symbioz
The Renault Symbioz is envisaged as a connected, autonomous, pure electric concept vehicle that is an extension of the home interior by integrating itself into your house when not in use. The French marque is viewing future electric cars as mobile energy-storage packs to power car and home – for instance in peak energy times. Symbioz has a retracting dashboard and the seats can swing around to face one another; it can drive itself in and out of the home, park itself in your room to double up as a sanctuary pod.
INFORMATION
For more information, visit the International Motor Show website
Receive our daily digest of inspiration, escapism and design stories from around the world direct to your inbox