Under the hood: we uncover the design strategy of the new Citroën DS range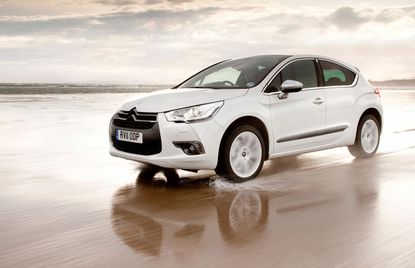 (Image credit: Citroën)
It's tough to create a car brand from scratch. Citroën's design-orientated sub-brand, DS, is a case in point. Although it might appear detached from the parent company, its production models are enhanced versions of stock Citroën originals and it takes its name directly from one of Citroën's most famous models, the DS of 1955. Yet there's a textbook lesson in here somewhere about the mysterious attributes of brands. How they endure, how they vanish, and how they don't always mean what you want them to mean.
The DS 4 is modern four-door hatchback. Neatly proportioned, with an above average dose of chrome, it's not especially remarkable to look at. It followed the first 'DS' branded car, the DS 3, a small hatchback that has been a big seller since its introduction back in 2010. Today, neither car – nor the others in the DS line-up – wear the Citroën name anywhere, inside or out. They are designed to stand alone, representing a more upmarket and tailored alternative. A major face-lift has effectively created a new version of the DS 3, while the DS 4 is also substantially changed from its original iteration.
Yet something is missing. The original DS was one of the most iconic pieces of 20th century design – all design, not just car design – so why use it simply to create lightly enhanced versions of standard production cars? The answer lies in economics, rather than design. DS is about building premium volumes, finding that sweet spot established by Mini, then aped by Fiat and others. Transforming a small car into a customisable object of desire increases profits, especially important when the market views your previous stock in trade as less and less desirable. The DS 3 did wonders for the company, but we still feel a little cheated. It's a nameplate that belongs on an engineering marvel, not an exercise in lightly applied 'premium' design.
And the future? At this year's Geneva Motor Show the company unveiled the new DS E-Tense concept car; beautiful, undeniably, but not a patch on even the most functional Citroën concept study from the 1970s and 80s. If the DS story does nothing else, it reminds us of how hard it is to conjure up a coherent contemporary design strategy from scratch, without relying on retro tropes or trading on past glories. For compared to Mini and Fiat, or even marques like Alfa Romeo and, to a lesser extent, Jaguar, the production DS cars have little or no direct reference to the undeniable design glories of Citroën's past.
The big Citroëns that followed the DS – the GS, CX, XM and C6 – were glorious pieces of car design. Something of their spirit found their way down into the smallest Citroëns, an idiosyncrasy transplant made most apparent in the original 2CV but also obvious in the Ami and Visa. A doomed partnership with Maserati in the 70s created heroic failures in the form of the massively complex but magnificent SM and Merak models, and led directly to a merger with arch-rival Peugeot. The two French giants continue to share platforms but both gradually lost their Gallic flair as the relationship matured. This loss is most keenly felt by Citroën fans, who are still mourning the slow death of one of motoring's most individual mass-market brands.
Will DS change all that? Up to now, the name hasn't hosted much in the way of spectacular design and innovation, although many DS-branded concept cars have made a splash (in fact, the company's most interesting car of recent years is the self consciously low budget Citroën Cactus). But as noted above, there is nothing remotely wrong with either the DS 3 or DS 4. Each car is competent and sprightly to drive, pleasant to sit in and simple to use. There's a soft-top version of the DS 3 and a crossover DS4, and as expected, a vast array of optional extras, colours and trim. Even so, there feels like a world of potential still embedded within this brand. Whether it ever manages to escape is a question for the future.
INFORMATION
DS 3, from £13,295, DS 4, from £19,595. For more information, visit Citroën's website (opens in new tab)
Jonathan Bell has written for Wallpaper* magazine since 1999, covering everything from architecture and transport design to books, tech and graphic design. He is now the magazine's Transport and Technology Editor. Jonathan has written and edited 15 books, including Concept Car Design, 21st Century House, and The New Modern House. He is also the host of Wallpaper's first podcast.