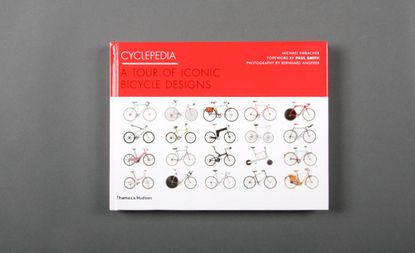 (Image credit: Designs by Michael Embacher.)
Not just for the bike geek out there with an incumbent need for encyclopaedic knowledge, designer and bicycle collector Michael Embacher's frame-tastic book looks into the weird and wonderful world of bicycles through a charting of 100 models designed over the past 90 years.
Embacher's collection of bikes is fascinating and his concise approach to describing each bike and its virtues, definitely makes it easier to tell your Cinellis apart from your Colnagos.
With a foreword by bike enthusiast Sir Paul Smith, who pays homage to the Gazelle Champion Mondial and its uncanny resemblance to his first bicycle, the carefully curated record of bikes features models that have been chosen for their innovative mechanisms, engineering precision, and commendable design.
Cyclepedia starts off with an essay on brief history of bicycle design, before embarking on its ride through the different types: mountain, racing, single-speed, touring, kids', tandem, urban, folding, cargo, and curiosities - exemplified by the strange but fascinating Capo Elite 'Eis' hybrid, which, with its strange capabilities as part ice skate part bike, allowed the rider to superfluously ride without mishap across a frozen lake (if so desired).
With a refreshing striped down two-wheel-and-frame approach to it all, the book promises to take a closer look at some of the world's greatest design triumphs and rarities, that will have even the most disinterested cynic pouring over the book's pages.
You might also like
Chic peas: new art cookbook charts a history of hummus

On the Hummus Route traces a utopian track between cities, people, markets and dinner tables. It documents street food in nine Middle Eastern cities, including Cairo, Jerusalem, Gaza, Tel Aviv, Jaffa, and Damascus, and in doing so, offers a fascinating insight into the area's design, food, and culture

By Elly Parsons • Last updated
View More ▸