Electric dreams: we're in a trance over these tip-top technological toys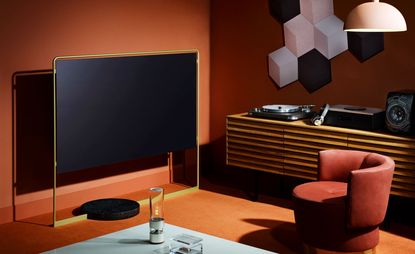 (Image credit: Baker & Evans )
Pictured, Bild X concept TV, price on request, by Bodo Sperlein, for Loewe. 'USM Haller' table, price on request, by USM. LSPX-S1 speaker, £799, by Sony. Crystal box, £595, by Asprey. 16GB calfskin USB key, £220, by LaCie, for Hermès. BeoSound Shape wall-mounted speakers, from £2,920, by Øivind Alexander Slaatto, for Bang & Olufsen. 'Sussex' sideboard, £2,554, by Terence Woodgate, for Punt, from Twentytwentyone. Zegna Toyz turntable, £2,870; headphones, £670, both by Master & Dynamic, for Ermenegildo Zegna Couture. Ottava Forte sound system, £799, by Technics. LS50 wireless speaker, £2,500 per pair, by Marcel Wanders, for KEF Audio. 'Anais' chair, €3,500, by Draga & Aurel, for Baxter. Paint in Book Room Red (on wall) and Picture Gallery Red (on skirting), £40 per 2.5 litres, both by Farrow & Ball. 'Devonia Plain' carpet in Autumn Fall, £43 per m, by Axminster Carpets. Interiors: Amy Heffernan
This year has been a busy year for futuristic technology. We celebrated the rise of the robot; the idea of autonomous driving has rolled off the drawing board and onto the highway; and, after a slow start, electric bikes have finally started to get us in a spin. We've even come around to the idea of smart vaping.

Alongside this high concept stuff, there's still room in our lives for simple, clever tech solutions – and we're filling our interiors with them. Here's a few of our favourites...
Beoplay P2, by Bang & Olufsen
The ultra-portable P2 – a pocket-sized powerhouse – is aesthetically and sonically simple. The smooth, pebble-shaped device is completely button-free, controlled remotely by an app. To change, skip or pause a track, simply give the hand-held speaker a shake.

On first impression this might seem a little gimmicky – just another digital language to learn, struggle with and swiftly forget – but the unique control design is surprisingly intuitive. It's a novel design that appeals to Beoplay's 'youthful and energetic' audience base, says design and concept manager Jakob Kristoffersen.
DOCK, by Native Union
When John Brunner and Igor Duc teamed up to create Native Union in 2009, they set out to offer an alternative to mass-produced charges, cables and technology storage solutions. In doing so, they powered up the aesthetic potential of tech accessories, realising their ability to double as beautiful statement objects.

For the marble watch stand DOCK, which doubles as an Apple watch charger, the pair were inspired by the tech titan's minimal approach and understated look. Brushed aluminium is paired with fine-grade marble and magnetically holds the watch band in place, buckled or unbuckled.
X-A3 camera, by Fujifilm
Retro design notes meet contemporary usability in Fujifilm's X-A3. Touchscreen operation pairs with wireless communication and a 180° tilting, 'portrait enhancing' LCD screen (developed specifically for taking the perfect selfie), all encased in a faux-leather, 1950s-esque shell.

Aimed at 'phoneographers' after an upgrade, the X-A3 also comes with Instagram-style filters and a 'smile' shutter. Like the P2, this entry-level mirrorless camera also relies on an app – the Fujifilm Camera Remote app – which allows you to upload your images directly from the camera onto your social channels, and takes much of the unnecessary clutter away from the streamlined in-camera menu system.
Bild X Concept TV, by Loewe
Loewe has impressed this year, by taking its innovative, visually interesting TV concepts and making them into real, functional products – and nabbing a Wallpaper* Design Awards nomination in the along the way. In doing so, they've taken TV design in a new direction: out of the hands of technologists and into the hands of interior experts.

Its latest release, the Bild X Concept, is still in the developmental stage. Debuted at IFA Berlin in September and designed by London-based designer Bodo Sperlein, its paper-thin gold frame is inspired by the way sails hang from a mast. Its 'sail', so to speak, is the unbelievably slim OLED screen, which can be detached from the frame with a simple click-in mechanism. A novel approach, where all the electronics are entirely distinct from the screen itself, makes for what Sperlein describes as a 'truly smart TV'. A simple shift in thinking, this move towards the modular 'releases the TV from its usual webbed anchor of cables' and allows it to be moved, adapted and adjusted, by even the most novice technology owner with ease.
A version of this article appeared in the December 2017 issue of Wallpaper* (W*225)
Left, 'Mia' armchair, £2,318, by Francesco Bettoni, for MDF Italia, from Aram. 'Cheshire' lamp, £332, by GamFratesi, for Fontana Arte. Side table, £871, by Eileen Gray, for ClassiCon, from Aram. 'Junto' cup, £10, by Simon Legald, for Normann Copenhagen. Echo Show, £200, by Amazon. 'Barbry' bowl, £50, by Georg Jensen. The Frame TV, from £1,999, by Yves Béhar, for Samsung. 'Compile' shelving, from £798, by Cecilie Manz, for Muuto. Pot and plant, price on request, from Patch. Pebble, £95, by Michael Kilraine, from Twentytwentyone. 'Junto' carafe, £29; cup, £10; 'Salon' tray, £74, all by Simon Legald, for Normann Copenhagen. Books, part of the West Coast Modern House series, published by ORO Editions. Sky Soundbox, price on request, by Devialet. Paint in Book Room Red and Picture Gallery Red; Axminster carpet, all as before. Right, 'Day' wall clock, £80, by Simon Legald, for Normann Copenhagen. 'Tense' table, £3,300, by Piergiorgio Cazzaniga, for MDF Italia. 'Roquebrune' chair, £1,039, by Eileen Gray, for ClassiCon, from Aram. Reykjavik speaker, £129, by Michael Sørensen, for Vifa. Thunderbolt 3 hard drive, £1,749, by Neil Poulton, for LaCie. 'Tip' lamp, £235, by Jens Fager, for Muuto. Surface Pro laptop, £799; Surface Pro Signature Type Cover in burgundy, £150; Surface Pen, £100; Arc Touch Mouse Surface, £60, all by Microsoft. Eclipse marble charger, $180, by Native Union. LG Q6 phone, £250, by LG. Norton Core router, $280, by Symantec, for Norton. 'Nouveau Pin' board, €531, by All The Way To Paris, for Please Wait To Be Seated. Gold bin, €350, by Sarah Illenberger. Paint in Setting Plaster, as before
Left, 'Giraffe' console, £1,800, by &New. Galaxy S8 phone, £689, by Samsung. Amber glass vase, £88, by Lyngby. 'Lundstrøm' bowl, £42, by Nicholai Wiig Hansen, for Raawii, from Twentytwentyone. Pink Marc de Champagne Truffles, £26 for 275g, by Charbonnel et Walker. Marble watch charging dock, $129, by Native Union. Tambour Horizon watch, £2,600, by Louis Vuitton. Beoplay P2 speaker, £149, by Cecilie Manz, for B&O Play. Urban Speed 2-in-1 Rollerball with ScreenWriter, £590, by Montblanc. X-A3 camera, £549, by Fujifilm. Paint in Setting Plaster, £40 per 2.5 litres, by Farrow & Ball. Right, 'Cubo' four-drawer cabinet, £1,295, by Theo Williams, for Another Brand. Bravia KD55A1 OLED TV, £3,000, by Sony. Yoga 920 copper laptop, £1,100, by Lenovo. PX noise-cancelling headphones, £330, by Bowers & Wilkins. Metal side table, £520, by Ronan and Erwan Bouroullec, for Vitra, from Chaplins. 'Ebury' tech tidy, £395, by Linley. iPad Pro in rose gold, £619, by Apple. Alpha One phone, $1,000, by Tonino Lamborghini. 'Edge' indoor pot, £28, by Skagerak, from Skandium. 'Bordeaux' pouf, £539, by Ferm Living. 'Multi-Lite' pendant, from €549, by Louis Weisdorf, for Gubi. Paint in Setting Plaster (on wall) and Dead Salmon (on skirting), both £40 per 2.5 litres, by Farrow & Ball. 'Princedale Pale' rug, from £750, by Farrow & Ball, for The Rug Company
INFORMATION
For more information, visit the Beoplay (opens in new tab), Native Union (opens in new tab), Fujifilm (opens in new tab) and Loewe (opens in new tab) websites
Elly Parsons is the Digital Editor of Wallpaper*, where she oversees Wallpaper.com and its social platforms. She has been with the brand since 2015 in various roles, spending time as digital writer – specialising in art, technology and contemporary culture – and as deputy digital editor. She was shortlisted for a PPA Award in 2017, has written extensively for many publications, and has contributed to three books. She is a guest lecturer in digital journalism at Goldsmiths University, London, where she also holds a masters degree in creative writing. Now, her main areas of expertise include content strategy, audience engagement, and social media.