Big draw: a new British brand is hoping smarter vaping will stub out smoking for good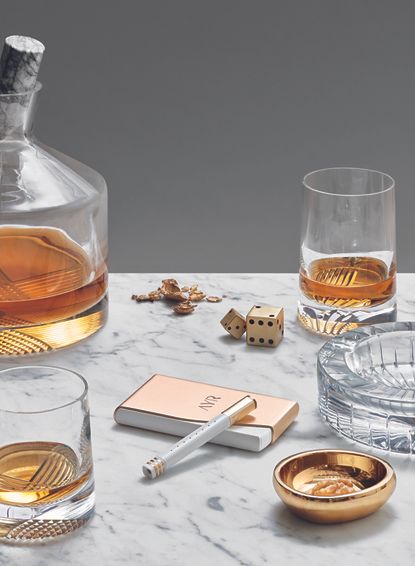 (Image credit: Philippe Fragnière)
Late in 2013, Ian Murison and Kaveh Memari sat down to discuss a shared frustration with the state of e-cigarettes. Murison, an industrial designer with experience in perfume packaging, had been tracking the market for close to a decade, and none of its products had impressed him. For starters, they were all big and bulky, and often looked nothing like the objects they were designed to replace. They came in complicated parts that could be fiddly to put together, especially in the dark. And, invariably, they leaked. The pair knew that e-cigarettes or 'vapes' were less detrimental to a user's health than traditional cigarettes, but poor design was deterring uptake.

They also recognised a huge opportunity in the market. In 2015, the global tobacco industry was worth close to $800bn, but e-cigarette sales, which included not just vapes but medical nicotine replacement therapies, claimed less than three per cent of that figure. In research sessions, Murison and Memari had discovered that many smokers were on the look-out for an alternative to cigarettes – a product that might eventually help them quit smoking altogether – but few had embraced those cumbersome vapes already available to buy. Memari saw 'a tremendous opportunity to disrupt a very old market' – the pair just had to produce the right product.

Murison and Memari began to develop an e-cigarette concept of their own. Understanding the importance of what Murison describes as a smoker's 'ritual', they started creating a product that would provide users with a familiar, 'cigarette-like experience'. That meant designing something that actually resembled a cigarette and its pack. It also meant facilitating an experience that mimicked the act of having one cigarette at a time. Early on in the design process, Murison and Memari identified a problem other manufacturers had overlooked: e-cigarette users often had no idea exactly how much they had smoked. Traditional cigarettes offered smokers a finite experience – when it burnt out, a cigarette was finished – but e-cigarette users could carry on and on. During a research session, one man admitted that he'd once used an e-cigarette non-stop throughout a concert. In an hour and a half, Murison said, 'he'd most probably inhaled the equivalent of six packs of fags'.
Four years later, Murison and Memari's new model e-cigarette is ready to hit the market. Called AYR (pronounced 'air'), it comes in three parts: a case, a luxurious take on traditional cigarette packaging; a vaporiser, which slots hassle-free into the case and resembles a traditional cigarette; and a capsule, bought separately, that contains a liquid formulation (or e-liquid) to be vaporised and which also slips seamlessly into the case. The whole package is light and easy to use. It's also heavy on clever technology, although users might not notice it. 'I like to call this a non-technology technology product,' Murison said, holding a recent prototype in the air. 'We didn't put a big LCD screen on the side and give it lots of bells and whistles. We tried to break it right down to the basic core elements.'

AYR's cleverness is in its practicality. Memari, an entrepreneur and officially the company's founder, describes it as 'the first vaporiser that refills and recharges itself automatically' – when the vaporizer is placed into its case, it does both, within ten seconds. It might also be the first vaporiser that connects with an app, which allows users to check on remaining battery power and capsule liquid and, when a user opts in, can record usage data. Most importantly, AYR will mimic the act of having one cigarette at a time.

Lights that run the length of the vaporiser will turn off, one by one, as a user inhales. When all of the lights have turned off, a session is finished, and the user will need to slot the vaporiser back into its case for an automatic recharge, reducing the potential for overuse. One capsule provides 100 sessions – and requires none of that tricky refilling.
Memari hopes AYR's innovations might actually encourage customers to quit smoking altogether. His father had been a heavy smoker – so, too, had Murison's – and he sees in AYR an opportunity to help smokers gradually reduce their addiction to nicotine. The company will offer various flavours of e-liquid, from Apple Strudel to Vanilla Sky. (Other flavours in development include Rhubarb Custard and Pistachio Biscotti, and all are made in the UK.) Each flavour will be available in one of four strengths: from Bold, where each capsule contains 18mg of nicotine, all the way down to Nude, which contains no nicotine whatsoever. Over time, a user can reduce the amount of nicotine they inhale while maintaining the 'ritual' of smoking, until they are inhaling none at all.

AYR is based in a former gallery in Southwark, London, where a team of 40 work on design, branding and marketing. Murison and his design team have created original pieces of technology for which they now own hundreds of individual patents. That technology, Memari said, will not be limited to use in their luxury vape, but might also be used in a medical context. AYR is already linking with the Royal College of Physicians to share smoking data. Soon it might be used by hospital staff to treat patients suffering with respiratory illness.

'We're not just thinking of challenging and possibly disrupting the traditional tobacco industry,' says Memari, 'but about our mission of wellness using connected devices in relation to breathing.' Smiling, he referred to the potential as AYR 2.0, when the company will deliver 'nicotine, medicines and even better air to customers and patients alike'.

As originally featured in the October 2017 issue of Wallpaper* (W*223)
INFORMATION
The AYR E-Cigarette, due to launch early next year, at £149 for a starter kit. For more information, visit the AYR website
Receive our daily digest of inspiration, escapism and design stories from around the world direct to your inbox