Bentley Continental GT looks to the marque's heritage as its centenary approaches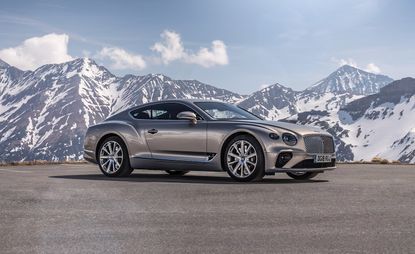 (Image credit: press)
Bentley is a curious company, a paragon of tradition and high society staple that is also a crude signifier of wealth as well as the model of discretion. These contradictory values all come together in the new Continental GT, probably the best car to ever bear the famous winged 'B'. Bentley's challenge is to balance 99 years of heritage with a demanding customer base engaged in a perpetual game of automotive one-upmanship, all the while working with a parent company committed to innovation but allergic to experimentation. Throw in a rising tide of legislative requirements and shifting social attitudes, and you have rich stew of conflict and contradiction.

The first Continental GT was introduced back in 2003 and given a substantial overhaul in 2011. It was big, bold and a little bit brutish, drawing (loose) inspiration from the legendary 1950s R-Type. It was also a mass-market Bentley, the first model to conform to the cycles, economics and politics of global car manufacturing, not just the whims and eccentricities of a small cottage industry.
Over 65,000 GTs have been sold since 2003, making it the most successful model in the company's history by a substantial amount. Development was vastly boosted by the company's acquisition by the VW Group back in 1998, and while the Germanic influence, whether at board level, in the design studio or under the bonnet, is keenly felt by enthusiasts, no-one could deny that Volkswagen's branding acumen had turned this beloved but archaic brand into a formidable high-end player. In recent years, the company has launched the Bentayga, a high-end SUV that has given annual sales a crucial boost.

The new GT has a high bar to leap. The long, long model cycle of its predecessor allowed competitors to raise their game substantially, meaning that the new model had to hit ambitious performance and refinement targets. Engineers were still tweaking the gearbox right up until the last minute (delaying the original launch), illustrating just how much Bentley needs this car to be right.
Grand touring is an aspirational activity, more than an everyday reality. It harks back to a pre-traffic era, when speed cameras would be considered unsporting and motorists in 'lesser' cars would simply pull over, and not try and capture your driving transgressions for broadcast on social media. However, one of Bentley's greatest tricks is to convey the sense of a grand tour every time you get in the car. Driving doesn't have much sense of occasion these days, but the GT does its damndest to lift your spirits.

First things first. This is a very beautiful car, with the proportional finesse the original always lacked. There's a fluid coherence to the overall shape that brings to mind the best Italian and French car design of the 60s and 70s. The Bentley bulges with a little bit too much chrome, perhaps, but the oval rear lights, flared haunches, steeply sloping rear screen and short overhangs do a good job of concealing the car's size.

Inside, it's even better. Bentley's design team, led by Stefan Sielaff, have spliced technology with tradition and come up trumps. Bentley favours tactile switches and dials, metals and woods, with a simple vertical fascia panel running the (considerable) width of the car. Trim options are limitless, allowing customers to indulge in retro-tinged nostalgia or something rather more contemporary. At the centre is the Bentley Rotating Display, a triangular chunk of dashboard that pivots and spins, offering up either three analogue dials, the standard display screen or the veneer of your choice. It's rather over-engineered, but as a result it fits right in with this car.
Finally, the driving experience. Lighter and more powerful than its predecessor, the GT's ability belies its size. While a fast autostrada cruise is what it was born to do, we revelled in flinging the big Bentley around the tight corners of the Italian and Austrian alps. Throttle response isn't quite razor sharp, and the steering doesn't communicate like a true sports car, but the available power and unflusterable balance make it delightful to push. Bentley claims a top speed of 207 mph for the GT, and a 0 to 60 of around 3.6 seconds.

Yet for all its sophistication – and the GT is incredibly, impossibly sophisticated – there's an underlying sense that this is the end of a gilded age, the last burst of shining light before the implosion of the traditional way of doing things. Craft, materials, artisanship, design, technology, all these things can and will live on in the luxury vehicles of the future, but the sheer effort and ingenuity that goes into shaping an internal combustion engine like this one is, sadly for some, on the way out.

The new GT is the apex of this technology, and although it's not in imminent danger of extinction, the writing is on the wall: it's a powerful dinosaur constantly on the lookout for a meteorite. No matter how you spin it, 12 cylinders displacing 6 litres and developing 626 horsepower is an anachronism; more and more companies are promising to eschew the internal combustion engine altogether in the not too distant future. Presumably Bentley is having similar thoughts – it would highly improbable if it didn't follow suit. In the short term, the W12 GT will find happy homes with those who want to be first to sample the new car. But we suspect that a hybrid V8 version of the GT would be an even more focused machine, with the bonus of being able to limbo beneath existing emissions regulations; expect one in the next 18 months.

Bentley ownership is about belonging to a particular club, joining a tradition that goes back all the way back to 1919 and encompasses society shenanigans, racing supremacy, technological excellence, design elegance and a dose of luxury that is appreciated by old and new money alike. There are still plenty of potential members lining up to join. But with its centenary on the horizon, Bentley is thinking hard about the next generation of owners, people for whom the combination of clubbability, elegance and clout need not go hand in hand with the throaty rasp of the internal combustion engine. The new Continental GT is a fine, fine automobile, an impeccably tasteful choice and a truly enjoyable machine to drive. Could it be the last of the breed?
INFORMATION
Bentley Continental GT, from £159,100. For more information, visit the Bentley website (opens in new tab)
Jonathan Bell has written for Wallpaper* magazine since 1999, covering everything from architecture and transport design to books, tech and graphic design. He is now the magazine's Transport and Technology Editor. Jonathan has written and edited 15 books, including Concept Car Design, 21st Century House, and The New Modern House. He is also the host of Wallpaper's first podcast.