Staying power: Bentley unveils its first foray into the diesel market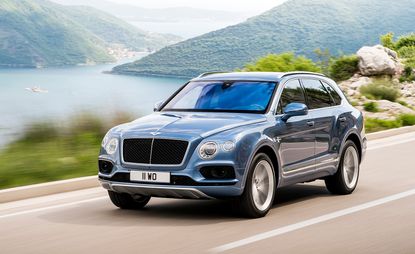 (Image credit: Bentley)
Very few luxury cars are born of expediency, rather than demand, and the Bentley Bentayga Diesel might be one of the first. This, the company's first ever foray into the diesel market, is a big SUV being launched at a rather inopportune time for this particular type of fossil fuel. The diesel path, we've belatedly discovered, wasn't the buttery smooth road to a low emission, high efficiency, power-filled future, but a smokey back road leading to a rather large technological cul-de-sac. Given that the motor industry's biggest scandal in decades is dubbed 'dieselgate', the logic behind the launch of what is one of the world's most powerful – and almost certainly the most expensive – diesel-engined car ever made is questionable.

From behind the wheel of this imperious machine, these concerns melt away, just as any vibration, noise and harshness from the V8 powertrain are smoothed into oblivion by some very adept engineering. It turns out that it's all about power and technology, and copious lashings of both. The original Bentayga bounded into view at the start of the year, brutish and big, controversially styled but undeniably a Bentley at heart. Unsurprisingly, a high-riding off-roader was a great place for the company's acclaimed interiors team to go to town with a palette-full of big-ticket materials. Fully tricked out, the Bentayga is as close to a land-going yacht as you're likely to find, with a blend of teak, chrome, leather and meticulous attention to detail.
All of this stays present and correct in the diesel model; indeed, the only difference you'll notice is a black radiator grille and a tailpipe design. Outside the car, there's a very slight diesel chatter, but inside the ambience is hushed. The big benefit with a diesel engine, fuel economy aside, is that more power is available at lower engine speeds – you don't have to be revving the motor like a demon to get the most output. This inherent grunt suits big vehicles like trucks, buses and lorries, and when downsized into conventional cars it has the added bonus of improving performance far above and beyond. The flipside is emissions. Although the best modern diesels pump out significantly less C02, they don't skimp on the bigger, sootier particles that make up so much lung-busting urban smog. That's why the diesel Bentley has an industrial-strength filter system to scrub off any unwanted smut.
What Bentley has done with signature skill is make this Bentayga the equal of its W12 engined sibling. To get the requisite power, what is effectively a triple-charging system taps the engine and exhaust at every conceivable point to channel maximum power regardless of revs. Coupled with the filter system and boosted electrics, it means engine plumbing so complex the under bonnet space resembles a small power station.

This complexity is all but invisible to the driver and entirely undetectable by the passengers, who get a leather-swathed space in which to recline while the car is doing its competent thing. We barrelled along empty Spanish roads and up slippery hillsides, cutting thick grooves through red mud thanks to a recent record-breaking rainfall. In all situations, we were far more concerned about dirtying the cream carpets than getting even slightly stuck. Such practicalities might never be sampled by the Bentayga's target market, but as with all things related to automotive performance and ability, it's not about what you do, but what you could do. Nevertheless, the Bentayga Diesel would be a fine choice for hauling a couple of polo ponies across a wet field or sneaking up the side of a glen for a champagne picnic. The adept stewards at the helm of the brand have made the Bentayga a hit, with nearly 5,500 cars delivered. The enhanced range and peerless refinement of the Bentayga Diesel should boost that figure even more.
INFORMATION
Bentley Bentayga Diesel, from £135,800. For more information, visit the Bentley Motors website (opens in new tab)
Jonathan Bell has written for Wallpaper* magazine since 1999, covering everything from architecture and transport design to books, tech and graphic design. He is now the magazine's Transport and Technology Editor. Jonathan has written and edited 15 books, including Concept Car Design, 21st Century House, and The New Modern House. He is also the host of Wallpaper's first podcast.