Audi's 2014 Urban Future Award paves the way to smooth city driving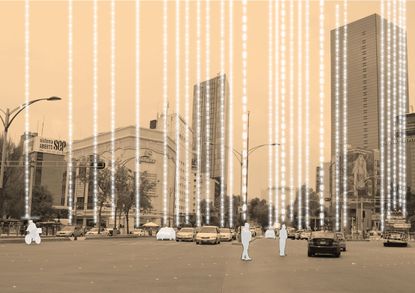 (Image credit: press)
Like many big car companies, Audi (opens in new tab) is spending considerable amounts of time exploring how to make its products gel better with the urban environment. Cars have a contentious relationship with cities, but it's obviously in the best interests of a car maker to ensure that the two coexist in sweet, profitable harmony for many years to come.

At the heart of their efforts is Audi's Urban Future Initiative, (opens in new tab) a heavily branded venture that sees invited teams of architects, designers, planners and other professionals suggest new ways of dealing with the myriad problems of 'urban mobility'. Audi launches its own technology-driven solutions alongside stylish renders and slick CGI, creating a virtuous circle of innovation.

That's the idea. It works because technology is one of Audi's brand identifiers. Ever since a bright spark at a (British) ad agency minted the phrase 'Vorsprung durch Technik' (opens in new tab) in the early 1980s, the company has mostly lived up to the image of a technology-driven innovator. In that time it has also marched steadily upmarket and is now one of the world's most desirable premium brands. From here, there is genuine potential for innovating beyond the ream of car-making and CEO Rupert Stadler set up the Urban Future Initiative soon after his appointment in 2010 as a marketing-friendly think tank.

For 2014, four teams took on the challenge of four very different cities: Berlin, Seoul, Boston and Mexico City. Their exact goal could be loosely described as 'explore how cars can continue to play a role in the future megacity'. Although plenty of august commentators would fundamentally disagree with the premise, this is not what a car maker wants to hear. Instead, we were treated to four densely argued research documents that, variously, sifted through data to calculate the best options for a particular journey (Boston and Mexico City), transformed the car into an almost architectural object that expresses and promotes social desire, status and interests (Seoul) and a far-reaching plan to transform abandoned city infrastructure into a quasi-autonomous personal transportation system (Berlin).

Each team based its ideas in a concrete reality, although the tether didn't prevent them from flying off into fanciful realms. The winner – and recipient of €100,000 – was the Mexican team, consisting of architect Jose Castillo, analyst Carlos Gershenson and think tank-leader Gabriella Gomez-Mont. Their proposal triumphed largely because Mexico City – a sprawling metropolis of 20 million – has barely scratched the surface of its congestion issues. Surveys and raw data are desperately thin on the ground, so the Audi-sponsored initiative has strong potential for helping planners figure out how to cut the huge social, economic and environmental cost of traffic.

The Initiative has previously highlighted the work of J Mayer H and Bjarke Ingels, implying that stylish visuals typically triumph over pragmatic data-crunching. Mexico City's victory bucked this trend, implying a new maturity in the company's desire to tackle the way its products interact with the world around them. Autonomous driving is, of course, a hot-button topic in the motor industry. Audi took the time to demo its latest innovation after the awards ceremony. Traffic Light Assist might sound prosaic, but getting it to work typifies the hugely complicated data maze that has to be negotiated every step of the way.

TLA links your car into the city's traffic system. It then feeds information about the approaching intersection to a dashboard display, giving you the optimum driving speed for reaching the light before it changes, or so it'll change just as you arrive. If you get caught at a red, it'll cut the engine and count down to when the light goes green, firing up five seconds before it's time to go. In practice it works seamlessly, though fewer than half of Berlin's 2,000+ lights are linked in.

The future of cars in cities is likely to be the piecemeal introduction of countless little systems like this, each requiring the synchronisation of vast swathes of realtime data. Audi isn't glossing over the challenge. But it knows full well that being an innovator means it will set the standards that others will have to follow.
Jonathan Bell has written for Wallpaper* magazine since 1999, covering everything from architecture and transport design to books, tech and graphic design. He is now the magazine's Transport and Technology Editor. Jonathan has written and edited 15 books, including Concept Car Design, 21st Century House, and The New Modern House. He is also the host of Wallpaper's first podcast.