The Danish Maritime Museum's subterranean new home by Bjarke Ingels Group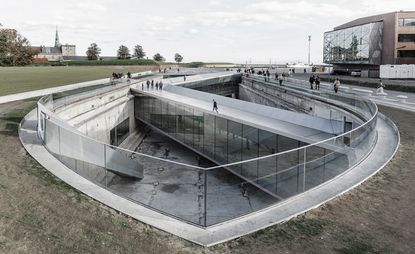 (Image credit: Thijs Wolzak)
Almost ten years in the making, the new Danish Maritime Museum in Elsinore has seen the light of day. Or rather - glimpsed the light of day - considering the fact that the 6 000 sq m museum is completely submerged under ground.

The opening marks a new start for an old museum, which, since 1915, has been housed in the Kronborg Castle, the stronghold in which William Shakespeare's Hamlet is set. When the castle was named a UNESCO World Heritage Site in 2000, the Danish Maritime Museum was forced to leave the premises and find another location for its operations.

Gazes fell on an adjacent property - a dry dock that for a long time lay flooded. An architectural competition declared Bjarke Ingels Group (BIG) - which has offices in Copenhagen, New York and Beijing - as the selected studio to design the new museum. As it happens, this was also the first competition Danish architect Bjarke Ingels had ever won.

Considering it 'architectural suicide' to cover the dock and fill it with the museum, Ingels has fashioned a solution that would leave it open, wrapping the galleries around the empty dock, mimicking the shape of a life-sized boat. 'We weren't allowed to build as much as a metre above ground, so as not to obstruct the view of the Kronborg Castle,' explains Ingels. 'Instead, we placed the museum below water level and turned the museum inside out, creating a giant loop of galleries that protect the courtyard in the middle.'

A series of eight elegant steel bridges, three of them bi-level, criss-cross the inner court, piercing the 1.5 m thick concrete walls to offer shortcuts between different facilities. Upon accessing the museum on the zig-zag bridge, visitors embark on a continuously sloping journey - which, through its inclination resembles the sensation of unruly seas under one's feet - through 600 years of Danish maritime history. Eight metres below ground, a café is found at the stern of the boat-shaped structure.

The Danish Maritime Museum is unique as it tells a story through the notion of empty space. By leaving the dry dock unfilled and the original walls untouched, visitors have plenty of room to make their own personal interpretation of the space. The same is true throughout the exhibition, designed by Dutch exhibition architects Kossmann.dejong. Refraining from using much text, they rely largely on light, perspective and sound to guide visitors through the wall-less galleries. The Danish Maritime Museums proves that sometimes, saying less is so much more.
ADDRESS
The Danish Maritime Museum
Ny Kronborgvej 1
DK-3000 Elsinore
Denmark
Receive our daily digest of inspiration, escapism and design stories from around the world direct to your inbox