Audi Urban Future Award: Building a vision - 2030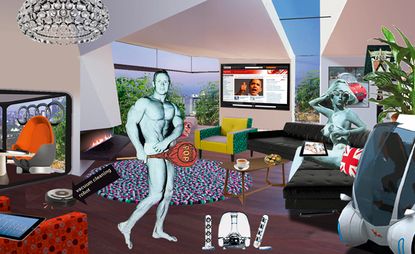 (Image credit: TBC)
Wallpaper* Newsletter
Receive our daily digest of inspiration, escapism and design stories from around the world direct to your inbox
Thank you for signing up to Wallpaper. You will receive a verification email shortly.
There was a problem. Please refresh the page and try again.
Cars and architecture are going to have to get to know one another rather better. Truly green mobility will depend on a massive supportive infrastructure in order to realise its full potential; charge points, specialist filling stations, more space efficient parking, intersection with public transport, congestion charging, etc. With all this in mind, Audi has taken the initiative and asked six international architects to conceive a city landscape for 2030 to examine how urban planning and architecture will change to embrace sustainable mobility.
The German marque hopes the findings will help shape its eco vision (as well as allow it to steal a march on its rivals). 'For me cars are like urban furniture,' head of Audi Group Design Wolfgang Egger told us following the initial presentations at the Royal Institute of British Architects in London. 'What we as car designers would like to find out is how to continue with individual mobility in a future urban environment.'
The architects involved are a well picked mix of practices from around the world -- Wallpaper* favourites all - including Alison Brooks Architects (London), BIG (Copenhagen), Cloud 9 (Barcelona), Diller Scofidio + Renfro (New York), J. Mayer H. Architects (Berlin) and Standardarchitecture (Beijing).
Independently, the dominant theme is the integration of personal mobility with public and shared transport, with a notable emphasis on exploring sophisticated information technology systems to expand on the role of the car. BIG conceives of a future city dominated by automated mobility - the driverless car changing the dynamics of the urban space. Founder Bjarke Ingels had this to say: 'The driverless car will change not only the way we utilise our existing physical environment, but how we plan for new urban life forms. Urban space and urban movement co-evolve in a constant feedback loop where each part is evolving to adjust to the other.'
Alison Brooks suggests downsizing the car to reclaim urban land taken up by roads and parking. 'Defuse vehicles around buildings like movable pods and use energy-producing buildings as power sources.' She also proposes personalised removable control systems so that the vehicle becomes a mobile architectural space.
Berlin firm J. Mayer H clearly had a similar vision. Jurgen Mayer told us: 'Individual mobility of the future will strongly be linked to the developments of digitally augmented urban spaces, automated driving and personalised data exchange between the human body and its environment.'
Standardarchitecture is focusing on how Beijing might appear in 2030. The firm has divided the city into two, with controlled interior and exterior mobility. Outside electric cars will be the primary means of travel, inside electric cycles and 'Audi Bubbles' - a small personally adapted space that travels on and between the travel belts. All this will coexist alongside a supporting metro system. 'New patterns of urbanisation will change our concept of mobility, and the change in our mobility concept will drastically change the future of the city,' Standardarchitecture founder Zhang Ke told us.
Cloud 9, for instance, set out to design its own concept car. Called Barcelona's Empathic Car it absorbs energy from various sources including a possible crash. The founder of the Barcelona practice, Enric Ruiz-Geli, explained: 'We would like to imagine a soft skin with photovoltaic dots which contribute to the energy production.'
Audi board member Rupert Stadler thought it interesting that most of the architects addressed personal mobility, confirming for him that the car as an object is here to stay. Following the presentation, he told us that the marque has no plans for a zero-emission sub brand but that the next stage for Audi will be small volume electric vehicles under the e-tron badge. He explained: 'We are branding the technology for electric driving as e-tron -- a bit like we did with the quattro.'
The six architects have now entered phase two. Audi will award the winner €100,000, to be presented in August at the 12th International Architecture Exhibition at the Venice Biennale, where each practice will produce an installation that represents their concept of a transformed reality.
Receive our daily digest of inspiration, escapism and design stories from around the world direct to your inbox