Architecture
The architecture graduates setting their sights on shaping the future of the built environment. From sustainable schemes to regeneration dreams, our in-house experts have scoured the globe from Europe to the Far East, to bring you the most exciting architectural talent. Writer: Harriet Thorpe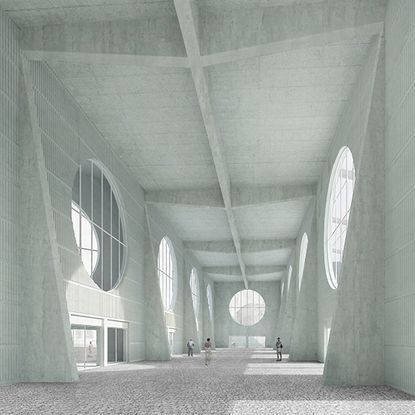 (Image credit: press)
Jack Swanson
Royal College of Art, UK

Swanson's thesis project addresses Britain's London-centric nature by proposing a new parliament in Liverpool, experimenting with the monumental and the postmodern to disrupt preconceived separations between the civic and public sectors. Swanson now works for Adam Khan Architects and teaches at Kingston University. Dream collaborator: Peter Womersley.
jack.swanson@hotmail.com
Medina Dzonlic
KADK

Growing up partly in San Diego, Dzonlic was inspired to study architecture by Louis Kahn's Salk Institute. Her thesis project examined the relationship between neighbourhood and individuality within the typology of the row house, and she recently founded her own studio, Lovenest, with Daniel Andersson, to work on new forms of housing. Dream collaborator: Valerio Olgiati.
dzonlicmedina@gmail.com
Cynthia Sin Tone Leung
University of Hong Kong

With experience studying and working across the world, Sin Tone Leung looked to the landscape of Hong Kong for her thesis that explored the history of land reclamation – specifically examining the strategy of flattening hills established under British colonial rule. Currently, she is working on a small office project in Shenzhen, an urban context that intrigues her. Dream collaborators: Herzog and de Meuron, Peter Zumthor, Thomas Heatherwick, and Alvar Aalto, Sverre Fehn and Robert Smithson.
cynstleung@gmail.com
Yaoyi Fan
Cooper Union

Yaoyi Fan was always intrigued by her home city, Zuhai, which sprung up rapidly within 20 years. 'If I became an architect I could make this city better', she told herself. Interested in an inter-disciplinary approach to architecture, her thesis project proposed a series of urban interventions for a city subway system that would divert the movement of people. She is currently developing a mobile game using image recognition and augmented reality, and is looking for investors. Dream collaborators: Iris van Herpen, Neri Oxman, and DSR.
ueodesign.com
Yanyi Ho
National University of Singapore

Drawing on sustainability-focused practices, Ho's thesis project redesigned water urbanism systems to tackle flooding in three different scenarios in Thailand. She was inspired to study architecture by the built environment itself, and how architects can influence the experience of individuals. Dream collaborator: Innovative and sustainability-focused practices.
issuu.com/yanyiho
Ivana Milosevic
EPFL, Switzerland

Milosevic cites literature as an influence. Her thesis project, examining the interaction between architecture and narration, used Dante's Divine Comedy as a 'tool' for design, with the verse regulating the structure and the narrative style evoked in the interior. Dream collaborator: Those exploring the relationship between architecture and other artistic disciplines.
ivana.milosevic@bluewin.ch
Sam Coulton
Bartlett UCL, UK

Coulton was inspired to study architecture by a family trip to Cesar Manrique's foundation and home in Lanzarote. His project 'London Physic Gardens: A New Necropolis' proposes to readdress the human relationship with death. The 'resomation' facility is an environmentally beneficial process that feeds a botanical garden and medicinal plant farm. Dream collaborators: Architects, designers and producers with ambitions to create emotional and political experiences.
samcoulton.wixsite.com/sgcarch
Rebekah Parkinson & Karissa Tysklind
MSA, UK

Taking inspiration from the work of Caruso St John, Rafael Moneo, Carlo Scarpa and David Chipperfield, Parkinson and Tysklind's thesis project explores the reuse of derelict space in Catania, Sicily, proposing a museum that forms an archaeological pathway through the city. Dream collaborator: Each other.
rebekahjparkinson@gmail.com; karissatysklind@gmail.com
Mary Lynch-Lloyd, Ching Ying Ngan, Maya Shopova
MIT, US

Established by Mary Lynch-Lloyd, Ching Ying Ngan and Maya Shopova in 2017 as an experimental thesis project, Collective Home Office explores the frictions and bene ts of collectivity, proposing alternative ways to work together outside of capitalist structures, such as those driven by Big Tech. Dream collaborators: Amazon, Airbnb, MIT.
collectivehomeoffice@gmail.com
Georgia Chousou and Matteo Lomaglio
ETHZ, Switzerland

Both graduating from the Master of Advanced Studies in Architecture and Digital Fabrication programme at ETHZ, Chousou and Lomaglio combined their skills on a project that proposes a new fabrication method for concrete formwork. The technique was established to bring architects more freedom for mass customisation and off-site fabrication. Dream collaborator: Passionate and dedicated teammates, motivated to succeed.
matteolomaglio.com; chousougeorgia@gmail.com
Zsuzsa Peter
AA, UK

Currently working for Farshid Moussavi Architecture and teaching at the RCA, Peter grew up with an interest in art and mathematics. Her project, 'C24', proposes a new way of living for a community of 100, who have chosen to exclude themselves from society, where a foam-like ground encourages rest and many aspects of life are shared. Dream collaborator: amid.cero9.
zsu3000@yahoo.com
Isabelle Verwaay
Harvard, US

Inspired in her career choice by her architect grandfather, Sacha Thébaud, who worked with Marcel Breuer, Verwaay received Harvard's Clifford Wong Prize for her thesis project on housing in her native Port-au-Prince, exploring the relationship between dwelling and landscape in the face of densification. Dream collaborators: Jane Jacobs, Anne Lacaton.
iverwaay@alumni.harvard.edu
David McEwen
Cambridge University, UK

McEwen's thesis project proposed an alternative way of regeneration that preserves and allows grassroots community urbanism to naturally flourish in London's Elephant and Castle. Dream collaborator: One that looks beyond conventional understandings of architecture to explore themes of identity, culture, community and politics.
djrmcewen@gmail.com
Tonia Sing Chi
Columbia, US

A KPF Paul Katz Fellow, Sing Chi is an ideologically driven designer committed to collaborating with under-represented communities. Her thesis project explored the outcomes of money sent home by migrants from the US to Mexico on the local vernacular. Dream collaborator: Someone passionate about challenging the status quo and not afraid to work for it.
tonia.sing@gmail.com
Kyle Reckling
UCLA, US

Reckling's thesis project is designed to create ambiguity through its materials. Something between an ancient megalith and a fluid, contemporary form, the residence was conceived to exude elusiveness. Since graduating, Reckling has been working at LA architecture firm Oak. Dream collaborator: Anyone who likes to push conceptual design boundaries.
kr21490@gmail.com
Harriet Thorpe is a writer, journalist and editor covering architecture, design and culture, with particular interest in sustainability, 20th-century architecture and community. After studying History of Art at the School of Oriental and African Studies (SOAS) and Journalism at City University in London, she developed her interest in architecture working at Wallpaper* magazine and today contributes to Wallpaper*, The World of Interiors and Icon magazine, amongst other titles. She is author of The Sustainable City (2022, Hoxton Mini Press), a book about sustainable architecture in London, and the Modern Cambridge Map (2023, Blue Crow Media), a map of 20th-century architecture in Cambridge, the city where she grew up.