Jaakko Torvinen and Elli Wendelin design transportable wooden building
Our Next Generation 2022 showcase shines a light on 22 outstanding graduates from around the globe. Here, we profile architecture graduates Jaakko Torvinen and Elli Wendelin from Aalto University's School of Arts, Design and Architecture, Finland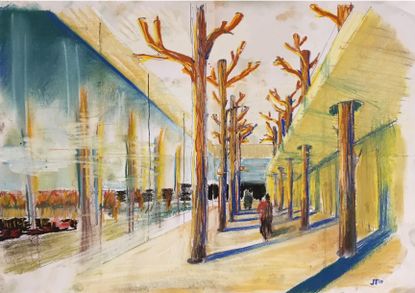 (Image credit: press)
Pikku-Finlandia started as a student competition entry in 2019 at the Aalto University's School of Arts, Design and Architecture, but quickly became much more, eventually being realised and built as part of a three-part graduation thesis. Its authors, Elli Wendelin and Jaakko Torvinen, collaborated on this impressive feat, titled 'Part I: From Finlandia Forest to Pikku-Finlandia – Design for a Transportable Wooden Building'.
Pikku-Finlandia ('Little Finlandia') is situated in Helsinki's Töölönlahti bay. It is planned to host an event and meeting venue filling in for Finlandia Hall (the iconic building designed by renowned Finnish architect Alvar Aalto), which is set to undergo renovations between 2022 and 2025. The initial concept of the project was developed by students Jaakko Torvinen, Elli Wendelin, Havu Järvelä and Stine Pedersen in collaboration with their professor Pekka Heikkinen and architects Arkkitehdit NRT Oy. The building is designed to be dismantled and rebuilt elsewhere afterwards. '[It could be] for example, an educational space in other parts of Helsinki for at least 30 years,' suggest the team.
Its structural columns, constructed from 95 Scots pine trunks, were handpicked from the forests in Loviisa, on Finland's southern coast. Torvinen was interested in exploring the principles of Reversible Building Design through this project: 'My aim was to design how Pikku-Finlandia can be dismantled and transported to the next location in Helsinki to serve for example as a school or kindergarten.'
Wendelin adds: 'I was initially interested in the life cycle impacts of a wooden building, and the temporary nature of the Pikku-Finlandia case gave an interesting perspective for the study.'
The two graduates share a design ethos rooted in a sensitivity for environmental issues. Wendelin hopes to collaborate with designers who value ecological sustainability. 'I think that carbon footprint assessment should become a solid part of decision making in architectural design, within any country or practice,' she says.
Torvinen adds : 'I would like to change the thinking of architecture from static to dynamic. It should be seen as a flexible and mutable process.'
Today, both Wendelin and Torvinen work as architects based in Helsinki, while the latter also teaches at the Aalto University School of Arts, Design and Architecture.
Dream collaborators: Kunlé Adeyemi and Francis Kéré
INFORMATION
Our Next Generation showcase of outstanding new talents appears in the January 2022 issue of Wallpaper* (W*273). Subscribe today!