Kamal Ranchod uses architectural drawing to decolonise Egyptian history
Our Next Generation 2022 showcase shines a light on 22 outstanding graduates from around the globe, in seven creative fields. Here, we profile Kamal Ranchod, from the University of Johannesburg's Graduate School of Architecture, South Africa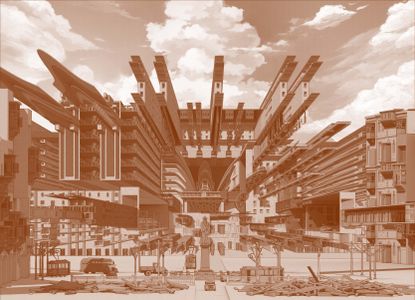 (Image credit: press)
Kamal Ranchod explores 'phantoms of the past' as he investigates colonial remnants of Cairo's modernisation period in his graduate thesis, 'Hyperreal Perspicuities: Multi-Narrative Reconstructions of Modern Egypt'. Ranchod graduated from the University of Johannesburg Graduate School of Architecture in 2021, with a series of architectural explorations depicting 'colonial hauntings' and the subsequent multiple narratives surrounding key events in Egyptian history.
'I am intrigued by figuring out ways architecture can draw the invisible', and 'the way we tell stories and reconstruct memories', he says.
The thesis uses a series of beautiful, intricate drawings, modelling, projection mapping and immersive video as mediums to critically engage with the past, reworking different representations at the same time. By adopting views that aren't fixed, his method warps perspectives and builds upon new panoramic vistas, allowing for new cartographies to form.
He explains: 'These changing viewpoints make us question what we thought we knew, by allowing us to approach an embodied experience through multiple viewpoints.' Through the visual overlapping of events, he can examine 'ways in which people can collectively fill gaps within the historical archive'.
Growing up in Johannesburg, Ranchod was first inspired by the playful designs of Catalan architect Antoni Gaudí. 'His work inspired me to really push what I imagined. Ever since starting my journey I have grown more fascinated with how architecture intersects with so many facets of life while creating and manifesting the nuanced and hidden ephemerality around us,' he says.
Ranchod is currently working as an architect in Johannesburg. He continues to develop his research in augmented and virtual reality: 'I find architecture is a powerful tool of dialogue, creation and reflection. I would like to develop further in the field of speculation and history to find new ways of working that can reveal new information and experiences,' he adds.
Dream collaborators: film industry professionals working with 'imaginative and speculative approaches', and architectural research studios, such as Forensic Architecture.
INFORMATION
thekamalio.wixsite.com (opens in new tab)
Our Next Generation showcase of outstanding new talents appears in the January 2022 issue of Wallpaper* (W*273). Subscribe today! (opens in new tab)