We catch up with show supremo Etienne Russo during Paris fashion week S/S 2009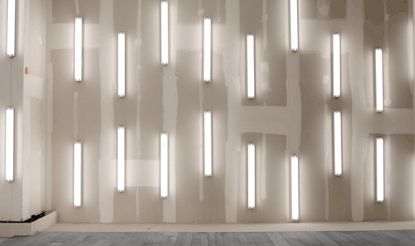 (Image credit: TBC)
Behind the scenes of some of our favourite fashion shows lies an important conductor, show supremo Etienne Russo. Russo's production company, Brussels-based Villa Eugénie, designs and stages events for fashion, art, beauty and other luxury goods companies all over the world. He has just completed a mammoth week having worked with Maison Martin Margiela on their show Monday night, Dries Van Noten's show on Wednesday, Sonia Rykiel's show, dinner and party later that same night, Chanel Friday, Hermès Saturday, Lanvin and Miu Miu on Sunday. We caught up with Russo at the Park Hyatt in Paris for a quick chat between the Chanel and Hermès shows.
Click here to see images of Russo's work during Paris Fashion Week S/S 09 (opens in new tab)
Tell me about a typical day for you in Paris during fashion week?
Today I woke up at 6am and went straight to Chanel to go through the show. After that I went to the set of Hermès which is rather complicated to put together. I managed to squeeze in a visit to my friend Hannelore Knuts at Colette as she has designed a bag for Belgian brand Delvaux, after which I will run to Miu Miu, then back to Hermès. At around 10 pm I will have dinner with my girlfriend, a rare treat, before running back to Hermès again.
How do you manage so many projects at the same time?
Luckily they are not too close to each other; I switch over and then completely focus on the one I am doing at the moment. I have at least 20 minutes to store the information and switch.
What exactly do you do for these brands?
It depends, strictly my job is scenography but for some clients I can come up with the whole package, from directing the girls how to walk, how to move on stage and the attitude.
What is the most complicated thing you have ever pulled off?
It's a very difficult question, I have done more than 500 shows.
At Dries Van Noten's men's show in June you filled the Halle aux Chevaux in Parc Georges Brassens with 70 vintage cars while sandwiches, Pimm's and ginger ale were served from their trunks. How did this idea come about?
Dries is very particular. To find a venue that no one else has used before is really tough. We found this market where people come and buy books on the weekend and in the week it's a car park. At first we thought it was too far away but then we thought if we make it appealing enough people would still come. It was Dries's idea to put old cars there as it's a car park.
How did you get into this job?
In the early 1980s, I started working as a model and barman. One day I went to see the boss; and came up with a proposal to organise special nights in the club. It took off and after a while I was changing the club's set design regularly.
My first fashion event was with Walter Van Beirendonck in 1986, and then I started working for Dries Van Noten. We were only doing showrooms at the time, dreaming of having a show. When he did his first show, he asked me to do it.
What job are you most proud of?
A few things but the Dries's 50th show was very special. We had a 150m-long table for 500 guests in a huge warehouse outside Paris. 150 chandeliers hung above the table and at the end of the meal the chandeliers were raised and the table became the catwalk. We had 250 waiters so we could serve the 500 guests at exactly at the same time - a scenography of waiters. We used a track that was not modified, so we needed the last girl to finish at the exact moment to the music in front of the photographers so the show had to run like clockwork. For half a second I had the feeling that I had touched perfection. It was a beautiful feeling.
What is next for Villa Eugenie?
I am a sponge and I need experiences so I try to do as many things a possible. I am going to India for the Rajasthan Music Festival, and then Bali to finish a house I am decorating for a friend. In January we will do the 30th anniversary of the Polo watch for Piaget. I only work with people I feel I can bring something extra to. I don't see it as a business it's a passion. I have many offers that I decline. If I don't feel the chemistry, I won't do it. I see my job in the same way I see my relationships, you have to make the effort to make it last.
Jack Moss is the Fashion Features Editor at Wallpaper*. Having previously held roles at 10, 10 Men and AnOther magazines, he joined the team in 2022. His work has a particular focus on the moments where fashion and style intersect with other creative disciplines – among them art and design – as well as championing a new generation of international talent and profiling the industry's leading figures and brands.