Tokyo James, the Nigerian-British designer whose inspirations cross continents
'Intersectionality plays a huge role across the board,' says designer Tokyo James of his eponymous, cross-continental label, which is rooted in cultural exchange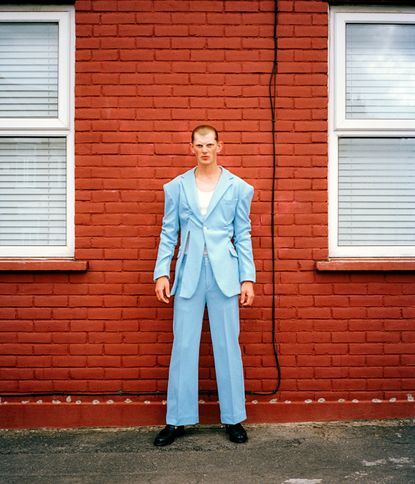 (Image credit: Leonardo Scotti)
For Iniye Tokyo James, the last two years have been a rollercoaster. 'As a brand we have been going for the proverbial hot minute. It hasn't been an easy ride, but we keep pushing,' he says of the period, which peaked with a nomination for the 2022 LVMH Prize, and sees him feature in our portfolio of emerging menswear designers in the September 2022 Style Issue of Wallpaper*.
The Nigerian-British designer founded his eponymous line in 2015; his aim was to make visual sense of his own heritage and propose a dialogue between two seemingly opposing locations. 'Clothes have unwritten ways of communicating. When I initially started it was about representation; giving a voice to a sector of creators who never really had a voice.'
James is perhaps best known for his tailoring, which melds Savile Row precision with textiles, palettes, silhouettes, and motifs that are rooted in Nigeria – think single-breasted blazers in corded lace and coats finished with intricate embroidery of reptiles, amphibians and insects. 'It is those little nuances that we all love and bring us together,' he says.
New menswear: Tokyo James A/W 2022
A visit to James' studio in Lagos also reveals an underground talent incubator with next-generation designers, photographers, stylists and an alternative modelling agency, all operating in various capacities from the premises. 'We have always been about community-building. For us, luxury is an emotion but more importantly, it is about people.'
This commitment to people has seen James eschew the logistically easier option of moving production to the UK, and merely gleaning inspiration from Nigeria. He takes his role as custodian within the wider fashion ecosystem seriously, aware of the brain drain that has not just affected the fashion industry but other sectors in the country. Having worked as a fashion stylist and fashion director before turning his hand to design, James runs a studio that reflects an appreciation for the company amid the cross-fertilisation of ideas and perspectives.
'Intersectionality plays a huge role across the board,' James says, adding that he attempts to unpack big themes but always with a keen eye on creating pieces 'with edge'. Additionally, he hopes to instil pride in his culture, as illustrated by the cult ruched 'Ato Rodo' bag, his paean to the scotch bonnet pepper that appears in Nigerian cuisine and other locations in the Global South.
Long attuned to the possibilities of vegan leather, James has made apparel and accessories in both animal hides and synthetic options from the offset. 'It is a very important part for us because we believe in choice,' he explains. In regard to fashion's adverse effect on the environment, his response has been to embark on a collaboration with Nike, to create a special line of upcycled bags and footwear using old trainers and football boots.
Materials and their sourcing are critical to the burgeoning label. 'We commit at least 30 per cent of our collection season on season to [being] made from deadstock, because this is an industry that feeds millions and we also have to do our part to make a beautiful industry available to future generations.
INFORMATION
A version of this article appears in the September 2022 issue of Wallpaper*, available in print, on the Wallpaper* app on Apple iOS, and to subscribers of Apple News +. Subscribe to Wallpaper* today!