Holiday hotlist: we're packing these stylish summer accessories
We've all experienced the panic of holiday packing; over stuffing suitcases with clothing we never wear, or being too ruthless with the contents of our roll on, only to arrive in paradise with little more than pants and a parasol. We've scoured summer's latest gadgets and gear with a fine tooth comb, and here present our stylish and practical holiday hotlist, whether you're sunbathing poolside in Provence or picnicking in the Pyrenees.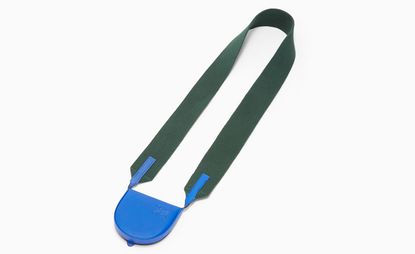 (Image credit: Loewe)
Small heel pouch, by Loewe
There's always the chance of a misplaced coin purse when reclining poolside, especially after a couple of lunchtime Caipirinhas. Lucky, for us Loewe has a practical answer for all your foreign change. This leather pouch hangs conveniently around the neck, and is part of the Madrid based label's collaboration with famed Ibizan boutique Paula's. Balearic bliss!
Trancoso beach bat set, by Frescobol Carioca
These sleek beach bats are individually handcrafted from layers of wood offcuts in Brazil, and with a strong resin coating they are wonderfully sea and sand-resistant. The'll beat flinging a plastic frisby or battered beach ball across the sand, and might just help you make some extra holiday playmates. Game on!
Deck of Cards holder, by Métier London
Patience, Gummy, Go Fish, whatever your preferred card game of choice, you're guaranteed to make a more sophisticated shuffle with Métier London's Deck of Cards holder. This elegant protector – imagined in summery pollen yellow leather – will protect your playing cards from sand and sun screen. It's a play-your-ace-level accessory.
Leather water bottle holder, by Smythson and S'well
An essential for those with a summer expedition in mind, this Smythson leather water bottle holder takes inspiration from the Belvoir Beaker Set, a silver-plated flask and nut-brown leather holder from the Twenties, found in the British accessories brand's archive. Slip your environmentally friendly S'well bottle snugly into the case, and you'll be well hydrated for your next outdoors adventure.
Backgammon set in printed maple, by Hermès
Beach bag bounty for board game obsessives, this expertly crafted backgammon set by Hermès is sure to see you on a winning streak. The warm and oceanic tones of its elegant maple surface will have you rolling the dice with real drama, and will prevent malaise when you're catching rays on a sun lounger.
BeoPlay A1 Portable Bluetooth Speaker, by Bang & Olufsen
Vowed to catch up on all those current affairs Podcasts during your deckchair downtime? This speaker provides the perfect portable companion. It boasts a 24-hour battery life, an aluminium sub woofer to amplify bass, and an in-built microphone which allows you to make a phone call should an emergency come up in the office.