Ssōne and Marble Partners' salvaged sensibility
The London-based sustainable women's label plays host to the offcut marble specialist's sculptures and furniture pieces, in its Marlyebone boutique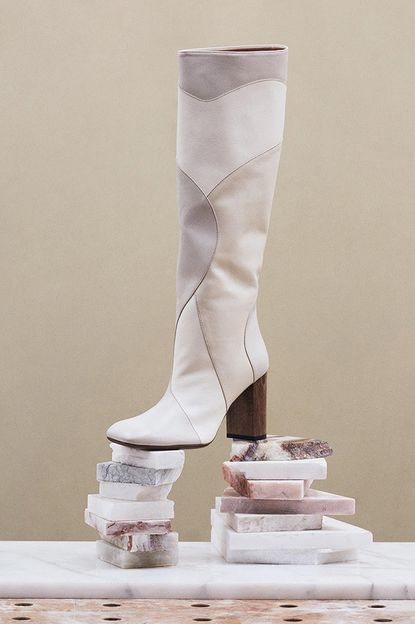 (Image credit: Ssōne)
When the world ground to a halt earlier this year, the frenetic nature of the fashion industry - driven by sales, seasons and splurges - became even more apparent. Luxury brands spoke of scaling back, revising the frenzied calendar, and working to operate from a measured, more environmentally conscious mindset.

One label which has worked with a slow output since its inception is London-based brand Ssōne. 'I can have avocado pits sitting on my windowsill for two weeks before I get the colour I need for dyeing! It's that patience that I find rewarding,' its founder Caroline Smithson told Wallpaper* earlier this year.
There's a measured mindset behind every stage of the brand's output - which operates sustainably, with focus on upcycled fabrics. 'Fibres are researched to get to the best possible standards of environmental excellence, dye processes are considered, botanical and natural dying is preferred where possible,' Smithson explains.

Ssōne used lockdown for more exploration, considering how to interact with its community in a more creative and educational way. One such result is its collaboration with Marble Partners, the East London-based studio which creates design objects – from candlesticks to side tables, birdhouses to vases – from graphic assemblages of salvaged marble. Ssōne's Frederique Barchelard-designed boutique on Chiltern Street in Central London is used as a space for showcasing design partnerships, including a recent team up with Morrocan artisans ANOU on a series of tactile knot-pile rugs. The store currently plays host to Marble Partners' pieces, including a surrealist hand-carved finger sculpture, formed from smooth pure white Laca marble, and its first chair prototype.
RELATED STORY
Smithson sees a link between Marble Partner's finger sculpture and her latest 'Visible Hand' collection, which features pieces with notably craft-focused details like colourful patchwork jumpers in retro botanically-dyed shades and striped cotton and linen day dresses with knotted details. 'While my exploration of the subject is fluid, in places using dry, crisp fabrications, the sculptures have an almost hyper-real smoothness and a sense of permanence that can't been found in textiles,' she explains. There's a salvage-focused sensibility between the companies too. Marble Partners create candle sticks using the offcuts of marble offcuts, while Ssōne's knee high Tina boot is crafted using the remnants of deadstock. Both pieces demonstrate the power of adopting a circular economy, in both the design and fashion industries, using previously unused scraps to create something sublime.
INFORMATION
ssone.com (opens in new tab)