Simone Rocha judges Wallpaper* Design Awards 2022
The British womenswear designer, whose brand recently reached its tenth anniversary, talks milestones, escapes and her pick of the Wallpaper* Design Awards 2022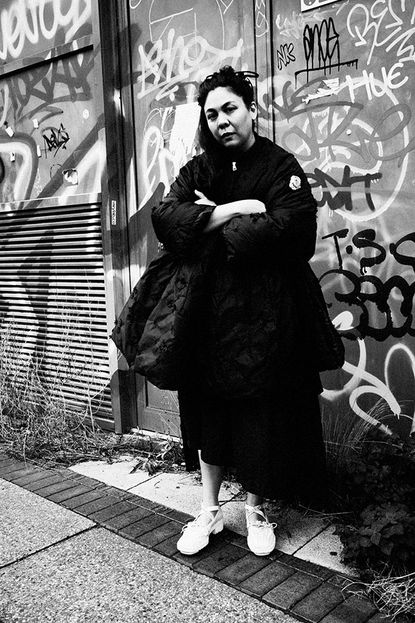 (Image credit: TBC)
Simone Rocha is at the peak of a celebratory high. Her namesake label – adored for its off-kilter romanticism – marked its tenth year in business with a roving paean to her curious blend of strength and opulence. An A-frame church installation with ornate screenprinted panels and Perspex roses popped up in London at Dover Street Market before it travelled to Rocha's New York store. 'I wanted something physical that people could congregate around to mark the decade and us coming out of the pandemic… or so we thought,' she says.
For a lot of us, the strangeness of the times has shifted the focus away from material gestures of pomp and ceremony. 'I'm not actually that spiritual, which is funny because I grew up in Ireland, which is largely Catholic, but it is something I love excavating and exploring,' Rocha says. 'I feel very proud of getting to ten years. It's as if a volume of a book has closed and I'm now on volume two. It's a good feeling.'
The Wallpaper* Design Awards 2022 celebrate the places and products that have lifted our spirits. Rocha – a winner of our Best Fashion Future award back in 2014 – was on this year's jury to adjudicate our highest honours, the Judges' Awards. Beguiled by its modular appearance and function, she was very taken with Francis Kéré's Slak campus, located on the banks of Lake Turkana in Kenya and nominated for Best Public Building. 'I thought it looked incredible. I loved how it was integrated into the landscape sustainably and that it was a place for education. There's a focus on what happens inside as much as what it looks like.'
Architecture and interior space are entwined throughout Rocha's own process. Early on, she made sure to connect the locations of her shows to her vision of historical pageantry. 'I almost see the architecture as another fabric within the collection – it's a backdrop. A show that always sticks in my mind is A/W 2014. I was humbled to be able to show in the Turbine Hall at Tate Modern because it provided a stark contrast for the clothes. I often think about that show,' she says.
As a judge, Rocha relished the chance to explore different kinds of making. 'I loved that everything nominated felt very unexpected. It included buildings that felt very vast that were then contrasted with things that are very intimate,' she says. 'It also really highlighted the times we have been living through. The things I enjoyed were all set within nature and the landscape. I guess this is just mirroring how we all feel and what we might be seeking right now. It was a nice escape for me to do this.'
The significance of escape is reflected in the collaboration between architects Studio Puisto, design company Made by Choice and interiors manufacturer Protos Demos. Their Space of Mind cabin – a joint winner in the Life-Enhancer of the Year category – is a modular structure, just under 10 sq m, that can be installed with minimal disruption to its surroundings. It is a complete ecosystem for hospitality. Rocha was drawn to its otherworldliness: 'It reminded me a lot of these ancient structures that are dotted across Ireland, where you could go if you were walking across the land and needed a place of rest.'
Having the luxury to unthink, or declutter the brain, is crucial, and she was particularly drawn to the setting of Gort Scott's The Rock house, a family home on a rocky outcrop in the Canadian mountain resort of Whistler. 'I imagined myself walking through the house and experiencing the landscape in different ways. This is how I switch off. It's important for your work, but also just to feel as if you have a personality! I have no problem switching off – when I get the time.'
Participating in this year's awards gave Rocha a moment – slipped between working on her next collection and wrapping up a momentous year – to rejoice in what design can do. 'The pace is relentless, but, at the same time, that's what gives you energy. The best thing is when you turn something that feels a part of you into something physical that resonates with somebody else. If that makes them feel something, then that's the ultimate.'
INFORMATION
The Wallpaper* Design Awards 2022 are revealed in full in the Feburary issue, on newsstands. Subscribe today!
London based writer Dal Chodha is editor-in-chief of Archivist Addendum — a publishing project that explores the gap between fashion editorial and academe. He writes for various international titles and journals on fashion, art and culture and is a contributing editor at Wallpaper*. Chodha has been working in academic institutions for more than a decade and is Stage 1 Leader of the BA Fashion Communication and Promotion course at Central Saint Martins. In 2020 he published his first book SHOW NOTES, an original hybrid of journalism, poetry and provocation.