Saint Laurent stages twinkling S/S 2019 menswear show on New York's Liberty Island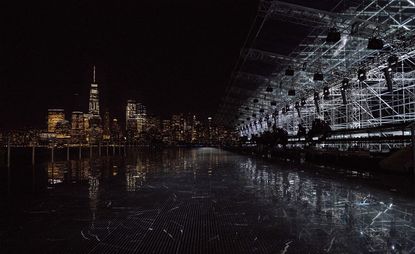 (Image credit: Saint Laurent)
In the upper echelons of conservative, haute couture-wearing circles in Paris in the early Seventies, New York City was viewed as a mecca of glamour, disco and decadence. Nightclubs, like Max's Kansas City on Park Avenue South, pulsed to vibrant disco beats, revellers were swathed in bias-cut Halston, and Andy Warhol ruled the after-midnight scene. Yves Saint Laurent travelled to New York City in 1972, where he was interviewed for Warhol's Interview magazine by Bianca Jagger. Six years later he held a extravagant party in Manhattan to celebrate the launch of the brand's controversial Opium perfume.
On Wednesday, Saint Laurent creative director Anthony Vaccarello extended the New York City-centric history of the Parisian house, holding the brand's first menswear show on Liberty Island at the mouth of the Hudson River. The designer has a penchant for treating guests to breathtaking views of cities; in Paris, his showspace next to the Fontaine du Trocadéro offers twinkling views of the Eiffel Tower. For Saint Laurent's open air S/S 2019 menswear show – its seating erected from a huge grid of sleek scaffolding – the shimmering view of the Manhattan skyline reflected across the Hudson.
Former creative director Hedi Slimane reinvented the silhouette of Saint Laurent six years ago, taking many cues from rock and roll. Vaccarello stuck to a musically-inspired silhouette; models strode the catwalk's dark marble floor in clothing shimmering with disco excess, and evoking exuberant nights of Seventies hedonism.
In 1977, Yves Saint Laurent set off $30,000 dollars worth of fireworks at his brand's Opium launch party. At Wednesday's S/S 2019 menswear finale, a series of models paraded in shimmering body paint, a sparkling incarnation of those explosive evenings in Seventies New York.
Related: Saint Laurent A/W 2018
INFORMATION
For more information, visit the Saint Laurent website