A room with a view: fashion designers' line of sight
From Manolo Blahnik to Margaret Howell, we've invited fashion designers to document by hand what they can see from their work desk or window, be it a view of a verdant garden landscape, or an urban snapshot of baroque architecture. They might just inspire you to work on a self-isolation sketch of your own.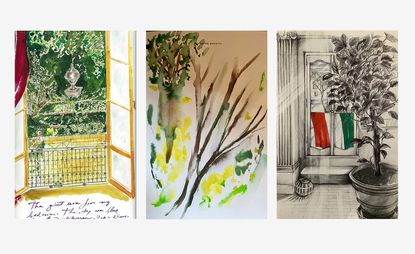 (Image credit: press)
Over the last month, we've transitioned to viewing the world from a smaller viewfinder. As the perspective of our new parameters has shifted, so we've found uplift in everyday domestic details or striking beauty in the natural world, now seen largely through our windows. As fashion designers have acclimatised to this new, four wall-defined way of life, from Beijing to Berlin, London to Longiano, we've invited those within our creative community to document by hand what they can see from their work desk or window. Here we present our rooms with a view.
Manolo Blahnik, Bath
'The sky was blue almost Mediterranean,' says the footwear behemoth of the lush garden view from his bedroom window.
Maria Grazia Chiuri, womenswear artistic director Dior, Rome
A unifying Italian flag hangs from the window of Chiuri's home in Italy's capital.
Michael Halpern, London
Jars of citrus fruits and bowls of fiery chillis sit on the colour-inclined womenswear designer's work desk.
Margaret Howell, Suffolk
'One drawing is my sheep's trough with planted tall, reed grass. The other is my hazelnut tree, which planted itself by seed many years ago. I drew this just as it's new leaves are coming out. At least nature is carrying on as normal' – MH.
Bryan Conway, design director Tiger of Sweden, Stockholm
Titled 'Spring in Sweden,' Conway's sketch offers a tree-lined street scene in the country's capital.
Marco de Vincenzo, Rome
From his window, the womenswear designer can see the splendid baroque architecture of Rome.
Massimo Giorgetti, founder MSGM, Milan
Plant-festooned balconies greet Giorgetti as he looks across Milan from his apartment.
Eudon Choi, London
From the view of his kitchen table, the womenswear designer sees a selection of sculptures and stacks of his husband's copies of Wallpaper*.
Karl Templer, artistic director Ports 1961, London
A green garden view greets the artistic director from his work desk in London.
Pierre Hardy, Paris
The window view through the accessories and jewellery aficionados wood panelled apartment reveals the splendour of the River Seine.
Thom Browne, New York
The designer presents an abstract view from his Central Park West location.
Petar Petrov, Vienna
Mannequins and a cutting table make up the designer's view across his mid-century apartment and live-in studio.
Isabel Marant, Paris
Natural beauty greets the progenitor of Parisian chic from her window.
Samuel Ross, founder A-Cold-Wall*, London
The boundary-pushing menswear designer shares a domestic scene from the London-based home he shares with his family.
Maria Skappel-Holzweiler, head of design Holzweiler, Oslo
For the head of design of the family run, Norwegian brand, respite comes in watching her children painting Easter eggs, outside in a pergola.
Sean Suen, Beijing
The menswear designer, who has been on lockdown since late January, shares a domestic scene in pencil and coloured wax crayon.
Lorraine Acornley, creative director Begg & Co, Hertfordshire
Quick daily observational sketches of a plant pot on Acornley's desk, 'explore line and materials'.
Giuseppe Zanotti, Longiano
The Italian footwear behemoth is currently residing in his home in Longiano, Emilia-Romagna, a short distance from the brand's factory.
Daniel Rosenberry, artistic director Schiaparelli, New York
'My window, my desk, my things and me' – DR.
Tammy Kane, co-founder and creative director Christopher Kane, London
A view of nature across a conservatory has been imagined using oil on canvas and oil crayon.
Albert Kriemler, creative director Akris, St Gallen
Lines from First Suprematist Standing Poem (1965), by writer, visual artist and gardener Ian Hamilton Finlay, greet Kriemler.
Giuseppe Marretta, menswear design director, Pringle of Scotland, London
Exhibition posters and verdant plant life offer visual distraction for the menswear designer.
MM6 design collective, MM6, Paris
The eclectic collective serve up a symbolic sketch inspired by the inversion of social structures. 'Even so, we are still singing,' they add.
Cecilie Bahnsen, Copenhagen
A huge Scots pine tree stands outside Bahnsen's window in the Danish capital.
Erdem Moralıoğlu, London
A sketch of rooftops from Moralıoğlu's window sits amongst ready-to-wear illustrations and swatches of fabric.
Alessandro Sartori, artistic director Ermenegildo Zegna, Milan
An abstract artwork, cosy chair and Cire Trudon candles all make up Sartori's domestic set up.
Roksanda Ilinčić, London
Linck Ceramics vases – from a curated Matchesfashion collection with Wallpaper's Picky Nicky – stand next to a window plastered with a community-focused NHS poster.
Molly Molloy, co-founder Colville, Milan
'I look out on to a courtyard of bright yellow apartments and have a balcony full of tropical plants. When the sun is out I have the windows open, you can hear the clattering of plates at lunch time and the smell of amazing Italian dishes cooking.' – MM
Ramesh Nair, artistic director Moynat, Paris
Stacks of artist monographs and a feline friend sit on Nair's busy work desk.
Feng Chen Wang, Shanghai
Shanghai's built up skyline forms the backdrop to the menswear designer's studio space.
Gherardo Felloni, creative director Roger Vivier, Isola del Giglio
A burnt sun setting over the ocean greets the footwear designer from his island home.
Alexandre Mattiussi, founder AMI, Paris
A window view completely free of buildings offers the natural gift of a clear blue sky.
Receive our daily digest of inspiration, escapism and design stories from around the world direct to your inbox