Hedi Slimane's store designs ramp up retail at Celine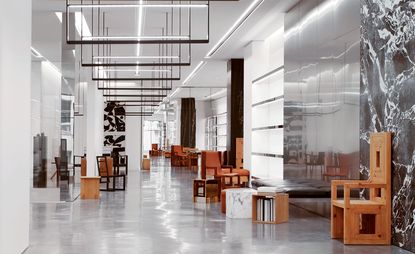 (Image credit: Patricia Schwoerer)
Hedi Slimane has lost no time in making Celine his own, after taking over as creative director at the luxury brand given cult status by the departing Phoebe Philo. Since his arrival last year, Slimane has removed the accent on the 'e', introduced menswear, put his stamp firmly on womenswear, and is now rolling out his new retail concept worldwide.

Of the latest move, Celine's CEO Séverine Merle explains: 'Celine has a great distribution network and high-quality visibility but no large stores. We need to open flagships in major cities, larger stores that can accommodate menswear and newly expanded women's collections.' Which is why in March, less than a month after inaugurating its 5,000 sq ft New York flagship at 650 Madison Avenue, Celine unveiled two addresses in Paris: a remodelled two-storey space for menswear and womenswear on rue de Grenelle, and the brand's first menswear flagship on rue François 1er. By mid-April, the French maison had also opened new boutiques in Tokyo, Shanghai, Los Angeles, Madrid, Milan and London, while a store in Beijing is due to follow before the end of the year.
Slimane designed all of the spaces in collaboration with Celine's in-house team. Though each store is unique, they share common traits, such as an emphasis on natural stone and other bold materials. Massive, richly veined slabs of marble, granite and travertine appear on walls, shelves and blocky columns, while the floors are lined with Basaltina lava stone. Their contrasting patterns are a feast for the eyes, reflected in floor-to-ceiling mirrors and steel surfaces. Reclaimed oak along with wood and leather furniture bring warm accents of brown to the sleek black-and-white palette.

Many of these materials beg to be touched. As you climb the imposing open-thread concrete staircase at rue François 1er, for example, try to resist caressing the creamy Bianco Raffaello marble wall to your right, or the ginger-veined black granite to your left – both deployed like couture fabric and offering a silky texture, with none of the usual coldness of stone. But if the materials can be smooth, Slimane's architectural lines are unrelentingly rigorous – intersecting seams in concrete floors, parallel shelving, rectangular metal displays hanging above under-lit mirrored platforms. At the same time, there is a certain weightlessness to the design. Display cases and shelves seem to hover just off the ground. Any time two materials meet – such as brushed steel next to Grande Antique marble – they never touch directly, but float in close contact to one another.
Slimane has experimented in furniture design over the years, and has created a new collection for the Celine stores, which is set alongside vintage 1960s and 1970s pieces that showcase French woodworking expertise. Slimane's furniture, most of it made of light or dark plywood, is elegantly minimalist, with an element of children's building blocks or primitive thrones. (There are plans to produce it for sale at some point.) Contemporary artworks by established and emerging talents, either acquired or commissioned, are another major feature of the spaces, an initiative dubbed the Celine Art Project. Many of these are also tempting to touch – such as a yellowed rawhide cube wrapped in rope by American artist Rindon Johnson at the rue de Grenelle store. Some play off the decor, like Shawn Kuruneru's ink-and-acrylic painting inspired by traditional Chinese landscape art, its abstract pattern echoing the marble of nearby display tables. The centrepiece of the rue de Grenelle store is a site-specific work by Oscar Tuazon. 'Hedi is a strategic thinker, and he thinks about a brand on a global level,' Tuazon says. 'What's amazing is that he combines this with a genuine passion for working with young talent. Musicians, artists, creative young people – they are the basis of his universe.'
As originally featured in the June 2019 issue of Wallpaper* (W*243)
INFORMATION
The new Celine stores are now open at 24 rue François 1er, Paris 8e and rue de Grenelle, Paris 7e. For more information, visit the Celine website (opens in new tab)