Rendez-Vous: Roger Vivier's demi-couture collection embarks on its latest world tour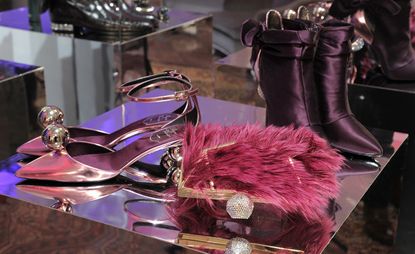 (Image credit: Roger Vivier)
It's not unusual for French haute couture houses such as Chanel or Christian Dior to fly their one-of-a-kind confections around the world accompanied by its petite mains, to visit clients for follow-up fittings, or in the case that they could not attend the maison's Paris show. It's a high-flying privilege that has quietly been extended to the world of accoutrements by the storied house of Roger Vivier.

Marrying couture's artisan expertise with the creative fluidity of prêt-à-porter, Roger Vivier creative director Bruno Frisoni's 'Rendez-Vous' collection has clocked up platinum frequent flyer status over the past seven seasons – thanks to the 12-city world tour that the limited edition collection enjoys every six months.

'I wanted to have something that would be a good substitute to couture actually,' explains Frisoni, who is in London this week to showcase his S/S 2014 line. 'Not that couture is not the right thing to do, just that it was not suiting me anymore. I wanted a shorter delivery and another way to look at things, so now they can buy a beautiful bag or a pair of shoes like they would buy an edition of a beautiful photo in an art gallery, he says, adding, 'And you also have the security, not to have everybody [wearing] the same thing!'

After Frisoni's latest Fall collection debuted in Paris during the recent couture shows (think Rue Saint-Honoré via a Far Eastern discothèque), his Spring 'Rendez-Vous' collection – which revived the 'Virgule' comma heel that Monsieur Vivier built his reputation on in 1963 – began its journey with an intimate cocktail reception, hosted by the designer and Madame Isabelle Emie, wife of the French Ambassador, at her Kensington Palace Gardens residence. 'It could be a private place, it could be a lunch', Frisoni explains, within the property's grand hall, as to the variety of events built around the shoe and bag collection.

Each season, Rendez-Vous journeys across the globe (from Taiwan to New York), remaining for no more than 24 hours in each destination – essentially just long enough for Frisoni's clients to be fitted with black satin lasts, representing each new design, from which only 20 pairs of each style will ever be made.

Offering a glimpse into his design process, Frisoni's now iconic watercolour illustrations accompany the house's invitations. 'Actually if you look at the little book [invitation],' he continues, 'the first one and the last one were the two first sketches I have done when thinking about Rendez-Vous. For working drawings I like to have fun when I look at them, pin them on the wall, instead of having a very precise thing that doesn't make sense to me.' Next stop: Milan and then Tokyo, where the chaussure voyage continues.
Receive our daily digest of inspiration, escapism and design stories from around the world direct to your inbox