The quiet couturier: inside the world of Bouchra Jarrar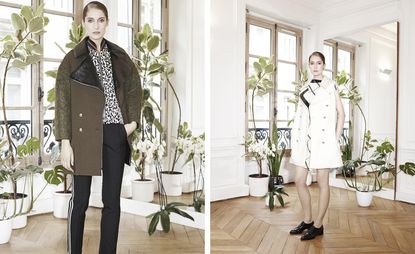 (Image credit: TBC)
'I don't work with a still image,' ponders French designer Bouchra Jarrar (opens in new tab), herself a picture of Parisian elegance, poised in the salon of her 1st district studio. 'I am a woman, I have a certain feeling for things – for the body in movement – and I think that is integrated into my work.' Such a simple interpretation belies the masterful technique of her eponymous collection, one the 44-year-old designer began in 2010 after a stint at Lacroix and close to a decade at Balenciaga alongside Nicolas Ghesquiere.

Known for the feminine touch that she brings to ultra-tailored pantsuits, scooped and structure cocoon coats and figure-hugging jackets in custom tweeds, Jarrar's haute-Parisian style is a quiet outlier to the unabashed glamour that drowns the couture world. She is a subtle colourist, drawn to monochromes and soft, blush shades sometimes touched with metallic sparkle, and her embroidery (by Lesage, no less) is used sparingly. The result is a startling modernity, haute couture translated as daywear and a cult following to match.

'I understand marketing; however for my brand I don't like the idea of projecting myself through a fantasy image,' explains Jarrar, whose dedication to her craft and its purity runs through all elements of her independent business. 'I don't show one thing in order to sell something else. What I show is pure technique, and I sell the same pieces, with the same quality.'

Since creating her haute couture and ready-to-wear lines, Jarrar has employed a full time tailor with whom she has previously worked for over two decades, allowing her to evolve the exquisite tailoring and more urban elements (the perfecto jacket and the cigarette pant, for example) that are the core of her business. 'Haute couture gave me the chance to create my own fabrics, which is something I still find extraordinary. It's something I now do in my ready-to-wear collection too, but in a more industrial way.' Those fabrics have become something of a calling card for the designer, whose expert slicing of patent leather zipped against lurex-shot houndstooth is (to the initiated) instantly recognisable, whilst her louche take on the 'Le Smoking' speaks a little more softly.

'I'm not someone who works with fantasies of the past, but I respect the past, and I know it very well,' muses Jarrar, whose references to the grand traditions of her craft remain evident, no matter how radical or pragmatic her cut. 'The history of fashion is very important to me, it feeds me, but today we have the chance to translate something new from today's society, from today's women.' And with her haute couture collection for A/W 2015 showing later in the courtyard of a prestigious Parisian college, there is no doubt Jarrar will leave her ladies waiting no longer for their next sophisticated step into her feminine, sartorial universe.