Kim Jones mines the Dior archives and couture techniques to embellish the modern man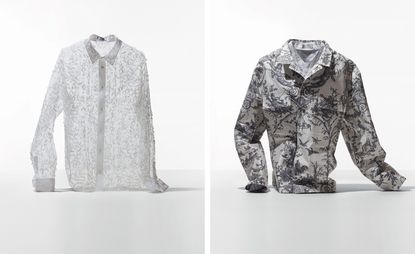 (Image credit: Patricia Schwoerer)
Ours is an age where fashion collections are admired and double-tapped on Instagram more widely than they are worn. Of course, if you're as canny a designer as Kim Jones is, you can do good things with 'grammability. Jones spent seven years at Louis Vuitton ushering in a smart, sports-luxe approach – his influence can be seen in every tailored trackpant, every bum bag slung diagonally across the chest. But now, as menswear artistic director at Dior, he's taking a new tack, learning to apply the majesty of couture to the masculine wardrobe.

At Dior, Jones is schooling Gen Z on the art of craft. He has drawn inspiration from archive pieces dating back to the 1950s and the couture techniques of the 70-year-old house are at the forefront of its new-look ready-to-wear men's line. His debut, S/S19 show for the house included a tailored, wraparound, single-button jacket named 'Tailleur Oblique'. 'We were looking at women's couture and with that comes this elegance,' he says. What worked for womenswear in the 1950s, he adds, can be applied to a lot of menswear now. He sees his role as editor of custom-made codes, from the curve of the house's classic 1947 'Bar' jacket to the floral decoration in the palest grey and pink.
The ideas behind his application of high craft to the new collection were rooted in objects that Christian Dior handled every day: 'I looked at everything from his homes to his childhood, his time as a gallerist before setting up his label,' Jones says. Floral patterns were drawn from Dior's personal dining service held in the Christian Dior archive at Granville, France, which were photographed and hand-drawn before they were translated into three-dimensional embroidery applied all over a collared shirt. The hand-beading took eight people three weeks to complete.

Jones has taken on traditional elements that then reveal themselves in modern ways. What looks like a simple lace vest is an ornate piece that took the atelier one month to develop. A traditional silk gauze was given a nylon warp to lend a technical finish to the surface; a fil coupé jacquard was then applied, adding clusters of flowers inspired by Dior's crockery. 'The house of Dior was only ten years of his life,' Jones says. 'His loves and passions were nature, art, design. [I've taken] all those things and mixed them together. '
The toile de Jouy pattern from the interior of Dior's original store at Paris' 30 Avenue Montaigne, designed by Victor Grandpierre, has been resurrected as a new signature. It is used on a piece that combines a collarless shirt attached to the inside of a Saharan blouson. 'Twice the material is pieced together so that the toile de Jouy matches at every seam,' Jones says. 'Having the atelier and being able to use couture techniques is a different way of working [for me]. We see things much more in person at Dior. Things are made in the building, which means you have more time to think about them.'

At least 15 people were involved in the creation of a sheer tulle shirt onto which laser-cut feathers were applied. The couture approach is about tactility, know-how, handwork. 'I'm learning about things that excite me and I want people to see them too. I think a generation growing up looking mostly online are used to seeing things in 2D. Now they want to see them in real life.'
Jones' work today has a lightness and an ease that comes from sportswear, yet it is rendered with fearsome opulence. In his 1954 book The Glass of Fashion, the photographer Cecil Beaton talked to Dior about the designer's role in taking note of – and shaping – contemporary life. 'The atmosphere of the times is an essentially unknowable element, but it is very important,' Dior advised Beaton. Throughout his 16-year career, Jones has consistently measured and moulded the mood. And as screen dependence threatens to atrophy our sense of touch, the rarefied world of haute couture is a reminder of the dexterity of the human hand. Sure, it is extravagant, elusive, but its results suit social media's appetite for spectacle. And the textures and techniques in Jones' debut remind us of our own physicality. It reminds us of fabric touching the skin. And the hands that make our clothes. §
As originally featured in the March 2019 issue of Wallpaper* (W*240)

INFORMATION
For more information, visit the Dior website (opens in new tab)
London based writer Dal Chodha is editor-in-chief of Archivist Addendum — a publishing project that explores the gap between fashion editorial and academe. He writes for various international titles and journals on fashion, art and culture and is a contributing editor at Wallpaper*. Chodha has been working in academic institutions for more than a decade and is Stage 1 Leader of the BA Fashion Communication and Promotion course at Central Saint Martins. In 2020 he published his first book SHOW NOTES, an original hybrid of journalism, poetry and provocation.
With contributions from