Frieze frame: Roger Vivier teams up with Ambra Medda on a limited-edition Miss Viv'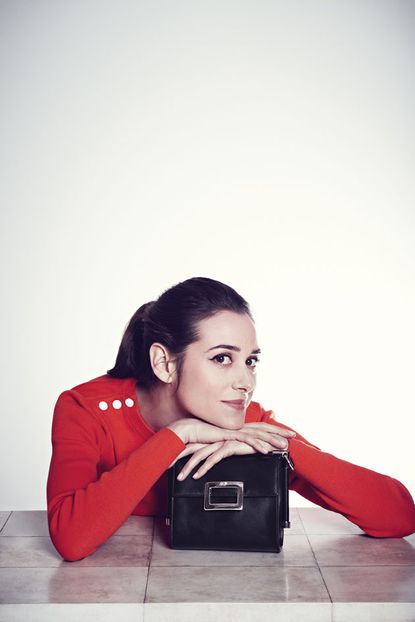 (Image credit: press)
When looking for a new muse for A/W 2014, Roger Vivier creative director Bruno Frisoni looked no further than design world doyenne Ambra Medda, extending the house's legendary association with beautiful, intelligent women.

'It was a natural meeting,' says Frisoni of his initial introduction to Medda. 'The worlds of art and design are inextricably linked and Ambra Medda seamlessly embodies this intersection of fashion, art, and design - the creative trinity that always inspires me.'

In addition to collaborating on a limited-edition version of the house's buckled Miss Viv' bag, the former founding director of Design Miami, who last June co-founded online design destination L'ArcoBaleno - hosting a multi-disciplinary array of shopable collectible objects - also stars in this season's campaign. 'Her international background and her fresh and stylish interpretation of fashion are absolutely Vivier,' Frisoni continues. For A/W's 'Le Bazar' shoot, he chose the backdrop of legendary French architect Robert Mallet-Stevens' iconic Atelier Martel, lensed by photographer's Sofia Sanchez and Mauro Mongiello.

'When I think about Vivier, and collaborating with such a strong design name, I think of this sense of timelessness,' says Medda, who currently bounces between New York, London and Berlin. 'Good design is timeless - when something is successful and really beautifully made and serves its purpose then it really stands the test of time.'

Miss Viv' was originally created in 2009 for France's then first lady Carla Bruni-Sarkozy in support of her foundation, and continues to evolve each season. Given that L'ArcoBaleno means 'rainbow' in Italian, it was only fitting that Medda's Miss Viv' follow the same theme; albeit in degrade sequins. 'I have such a deep respect for the creations of this historic maison,' she adds, 'which continually balances the highest quality and desirable luxury with intelligence, playfulness and joy.'

In town for a party thrown by Frisoni on the eve of Frieze next week, we couldn't help zoning in on Medda's itinerary: 'I love Spruth-Magers gallery's program although they work with quite established artists,' she begins. 'In terms of design, I will definitely pop into Themes & Variations, Carpenters Workshop, Gallery Libby Sellers and the newly opened London location of Paris' Galerie Kreo. Gallery Kreo will have a show called "Des Formes Utiles". To celebrate the official opening it will have brand new pieces by Jasper Morrison, Konstantin Grcic, Ronan and Erwan Bouroullec, Doshi Levien and Jaime Hayon.' Right up her, and our ally then.