Jaime Hayon launches Room 506 at Copenhagen's iconic SAS Royal Hotel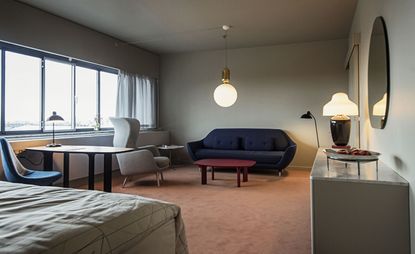 (Image credit: press)
Considering it was once labelled the world's first design hotel, it is a tragic loss that apart from the exterior, not much remains of the iconic Copenhagen property created by Danish architect Arne Jacobsenin 1960.

Commissioned by commercial air company Scandinavian Airlines System (SAS) as an international gateway to Denmark, Sweden and Norway, the 20-storey hotel – which comprised an airport terminal – was the tallest building in the city upon completion and was conceived entirely by Jacobsen who, employed as an external designer by local furniture outfit Fritz Hansen (opens in new tab), also launched many of his iconic furniture pieces at that time.

In the 1970s though, a sad lack of foresight saw the refurbishment of many of the hotel's guestrooms, bar Room 606, which was thankfully saved by the general manager at that time and is still available to book today. The room exhibits Jacobsen's original design along with a selection of his iconic pieces, including the 'Swan', 'Drop' and 'Egg' chairs.

54 years later, Fritz Hansen has tactically re-surfaced at the hotel, this time employing the skills of Spanish artist and designer, Jaime Hayon (opens in new tab), who embraced the task of re-designing another of the guestrooms - number 506. 'To make this room has been a little bit of a celebration,' says Hayon. 'The origin from the beginning was to brainstorm together and enjoy.'

A range of existing Hayon designs for Fritz Hansen including the 'Favn' sofa, 'Analog' table and 'Ro' easy chair are complemented by a number of accessories such as a statement low-hanging ball light, lamps, cabinet, mirror and vase. 'They're small things, but it's those details that make the place pleasurable,' explains Hayon.

Also in the room is Jacobsen's 'Drop' chair - designed in conjunction with the others as a series for the original hotel - which has now been re-launched after 50 years in hibernation. Hayon interpreted the chair in his own eccentric manner by upholstering it in fur: 'I went with the most risky textile they had. "I said, 'let's get hairy', you know, 'let's get the animal on!"' he jokes.

Typically, Hayon has arranged the room in muted, putty grey tones with the odd pop of colour creating an interesting combination. 'It was really about the idea that these colours are not easily combined,' he explains. 'I always say that in design, if you keep things sort of monochrome, and you have a few pieces with colour, you live quite peacefully.'

The result is clean and modern, with an undertone of spice that hints at Hayon's Mediterranean charm. 'It's a great idea and it has been fun to do it,' he says.
ADDRESS
Raddison Blu Royal Hotel (opens in new tab)
Hammerichsgade 1
Copenhagen V, DK-1611
VIEW GOOGLE MAPS (opens in new tab)