Making moves: an exhibition exploring the body in fashion photography takes shape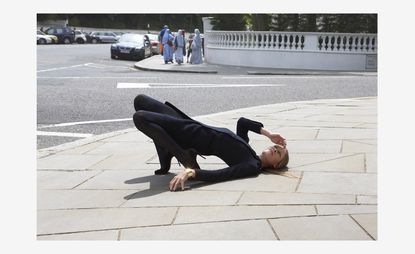 (Image credit: Blommers & Schumm)
Is it possible to curate a contemporary fashion photography exhibition in an age of constant media bombardment? 'Posturing: Photographing the Body in Fashion', an exhibition set to launch at 10 Thurloe Place tomorrow, in conjunction with The Outnet, offers a suggestion. Looking past the clothes and towards the body, the show investigates a current trend in editorial photography: the eschewing of expectations.

Take a model bending into a bridge on the street, as lensed by Blommers & Schumm for The Gentlewoman, subverting the expected graphic silhouette of a goddess pose. Or Lily McMenamy shot by Pascal Gambarte for Marfa Journal, lunging in a swimming costume instead of sprawling seductively on a sunbed. With these images we are offered co-curators Shonagh Marshall and Holly Hay's irregular take on the portrayal of the body in contemporary fashion photography.

Mimicking the taxonomy of a photoshoot call sheet – a list outlining the who's, what's and where's of any shoot schedule – the exhibition is split into five sections: art direction, styling, props, casting and location. It pools together recently published works by editorial photographers like Blommers & Schumm, Johnny Dufort, Marton Perlaki, Zoë Ghertner and Brianna Capozzi. Such categorisation serves to showcase each role behind the image, all the while blurring the boundaries between them. Styling is subverted in manifold ways: clothes are hidden behind, worn upside down, in the midst of removal, shrunken, oversized or simply abandoned, in an array of acrobatic poses and architectural compositions.
Having curated more traditional fashion exhibitions like 'Isabella Blow: Fashion Galore' and 'Hair' by Sam McKnight at Somerset House, archivist and curator Marshall notes that the conversation around this topic has changed. 'When I first started working with magazines in this context, it was all, 'Is it in focus? Are Balenciaga going to be happy with this shot?', but now, even the people based in the magazine are at service to the image.'

Charting this shift, Hay and Marshall explore how photographers have pulled away from using the body as a clothes horse, and begun seeing it as a powerful tool for expression, as Brianna Capozzi agrees. 'I am extremely into body position and posture: you can have a person squatting with her hands up against the wall and it can feel one way, and you move her right foot one inch and all of a sudden the emotion and energy she is emitting is entirely different.'

Upon walking through the exhibition, what emerges is a sense of humour, an approach to fashion that feels light and modern. 'I do feel like this show is a pin in a movement of photography that will be remembered. And I do think it will change,' image director and art buyer Hay explains. 'It's humorous and it's a move away from the sexualised body, and away from grunge. It's really interesting to show artists that are doing something new everyday and developing their practice. For instance, if we started the show today it would be a totally different. There would be a completely different edit, because these photographers are making work daily, they've made a whole new body of work since we started working on the exhibition.'

Set designer Georgina Pragnell helped repurpose the South Kensington retail space – her work fills many of the frames on show – and sought to reconfigure viewers' ideas of exhibition placement, planting works at confrontational angles and heights, inviting the audience to consider their own poses as they browse. Offsetting this unorthodox approach, Marshall and Hay installed traditional interpretation and signage, opening up the platform of establishment fashion curation to their free-flowing concept and cultivating a dialogue that feels new and expansive in the process.
INFORMATION
'Posturing: Photographing the Body in Fashion' is on view until 12 November
ADDRESS
10 Thurloe Place
London
SW7 2RZ