Hot tickets: the designers getting our temperatures rising at Pitti Uomo 2018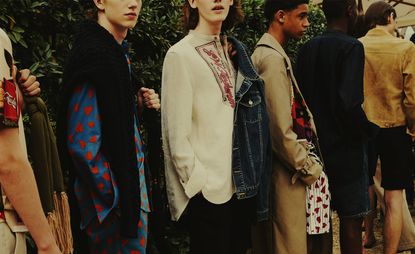 (Image credit: press)
Like the soaring temperatures in Florence, the biannual Pitti Uomo trade fair, now in its 92nd edition, rose in global excellence this week, its rotating roll-out of international designer guests featuring London designer JW Anderson (opens in new tab), German label Hugo Boss (opens in new tab), who presented its younger counterpart label Hugo, and Virgil Abloh's New York-based label Off-White. Abloh's show marked a moving collaboration with Jenny Holzer, who recently worked on a limited-edition cover for our July issue (opens in new tab) (W*220).

Guests were also treated to Christian Louboutin's staging of a Bike Polo tournament in the centre of the city, and even popped to a sneak preview of 'The Ephemeral Museum of Fashion'. The exhibition, held in the spaces of the Galleria del Costume of Palazzo Pitti, and curated by Olivier Saillard, features nearly 200 pieces from the 19th century to present day, by designers including House of Worth and Gucci (opens in new tab).

In fitting with Hugo Boss' guest status, Bart De Backer, senior head of Hugo menswear design, and Jenny Swank Krasteva, Hugo Woman senior head of creative, explored the status of the artist as an outsider for the label's S/S 2018 collection. The nighttime show, housed in a huge disused cigar factory, featured a long concrete catwalk sprayed with graffiti and illuminated with hundreds of suspended candles. The space was fittingly bedecked with brushstrokes and sketches, while the collection – featuring artful raw edges and loosely tied floral motifs, overall silhouettes and loose coats – veered towards an arty palette of of neutral shades and splashes of bright yellow, Hugo red and blue.

'When we were working on the collection, we found a lot of photographs of Basquiat wearing designer brands,' the Hugo designers explained. 'He was wearing them in a very unconventional, non-precious way. This image of the artist wandering around in his own bubble, creating his own fashion aesthetic, was the starting point.' This sense of personal style culminated in a play with proportion – for men, doodle print bags were blown up to XL size and for women, embroidery details had a DIY edge. The collection itself acted as a canvas for the London designer Charles Jeffrey LOVERBOY, whose prints featured on mesh t-shirts and hand-painted organza dresses. 'His unique style and strong vision of things fits in so well with the ideas and DNA of Hugo,' De Backer and Krasteva explain.

From an emerging London label to a renowned name on its schedule, JW Anderson presented his Pitti debut in the gardens of a Villa La Pietra, a Renaissance villa in the hills outside Florence. Guests walked through its gardens, populated with lemon trees, topiary and geometric flower beds, before nestling on the floor on cushions. Behind them in the evening sun, stood grand figurative sculptures covered with dust sheets, and on the catwalk stood seven fabric sculptures by the Loewe Craft Prize (opens in new tab) finalist Anne Low (Jonathan Anderson is also creative director of the Spanish luxury house).
A grand location yes, but the collection marked a more pared back version of the designer's aesthetic, honing in on beige chino shorts, roll-up jeans, cable-knit sweaters, Breton striped jumpers and a collaboration with Converse. Prints riffed on the Coca Cola logo and came in multicoloured panel love hearts. Anderson's three year stint as the creative director of Sunspel marks his malleability to move between more subversive and commercial design. His guest status at Pitti marks not just a move in show city but a move towards a new customer.

A cellophane wrapped orange t-shirt acted as the invitation for Off-White's S/S 2018 show. It not only highlighted designer Virgil Abloh's collaboration with Jenny Holzer, but also featured printed instructions for securing a lifevest- a hint at the political connotations of the show, in particular the Syrian refugee crisis. For the hour and a half long nighttime spectacle, held outside in the enormous front courtyard of the Palazzo Pitti, Holzer projected huge scrolling texts onto the walls of the vast renaissance building, taken from writings documenting war and conflict. Moving excerpts were taken from texts by Omid Shams, Ghayath Almadhoun and by current voices on on the Syrian and Palestinian conflict, living today in exile in the EU and US. Scrolling texts also included thirty verses by the Polish poet Anna Świrszczyńska, who was a military nurse during the Warsaw Uprising of 1944.
Utility wear references in the collection, like bright orange lace up boots, eerie hooded-shirts and wide-collared cagoules resembled both lifeguards uniforms and the apocalyptic protective gear worn during a nuclear fallout. Oversized plastic shoulder bags, flat bottomed and in searing orange, resembled miniature lifeboats, while puffer-jacket gilets and paper nylon jackets riffed on the life vests alluded to in the brand's show invitation. The clothes, illuminated in spotlight against the palatial backdrop, acted as a stark reminder of the world's present political climate, contrasted in stark detail to grandiose architecture of a time gone by.
INFORMATION
For more information, visit the Pitti Immagine website (opens in new tab)