Upward curve: Philipp Plein's gleaming Claudio Pironi-designed London flagship
Upward curve: Philipp Plein's gleaming Claudio Pironi-designed London flagship
For his Christmas party in Milan, fashion designer Philipp Plein took his 400 employees to the circus. He donned a red nose and performed magic tricks with Zippo the Clown while staff dined among lions and scantily clad tamers. To see Plein dressed in tails waving a magic wand is something of a novelty. Usually he's posing in his signature leather and denim behind the wheel of his Rolls-Royce Dawn or his Lamborghini Aventador, or he's entertaining lavishly in one of his mansions in New York, Cannes or Bel Air.
Last December, he opened his first UK boutique on New Bond Street, one of 60 new Philipp Plein stores to hit the planet in 2016. Among the guests at the launch party were Arsenal footballer Olivier Giroud and his sporting cohorts, and an array of models and pop stars who make up the 'Plein Squad'. They partied into the small hours, before Plein took off for Paris and Amsterdam to check out further boutique openings.
To outsiders, the 38-year-old German designer seems to have shot, bullet-like, onto Bond Street, Rue de Rivoli and Madison Avenue, but he has been building his empire for almost two decades. He started out making furniture from stainless steel and mock croc while studying for a law degree, which he later dropped. In the early 2000s he switched to leather accessories, then fashion. His testosterone-fuelled menswear – all tough-guy denim, leather, buckles and studs – and his flesh-baring womenswear conquered catwalks from Moscow to Doha to Wuhan before landing in the 'mature' markets of the US and Europe. His current mission to 'conquer America' means there will be 11 stores in the US by April.
'When you start from zero, there's the whole world to take,' says Plein from the Bond Street store. 'We didn't focus on the UK until recently, because there were other markets like Russia and Asia where we would get return on investment. We're still a small start-up; we use our own cash flow and 95 per cent of my staff are under 40. If I had taken on London six years ago, I would be bankrupt.
'It was the hardest boutique in the world to complete, and took one and a half years longer than expected as the whole site had to be rebuilt,' he adds. For a dynamo like Plein, who never takes a day off (even Christmas Day was spent on a flight to New York), this was beyond frustrating. 'I'm not a construction guy, I'm a retailer. I wanted to move straight in. Instead we had to renovate the entire building – while paying rent.'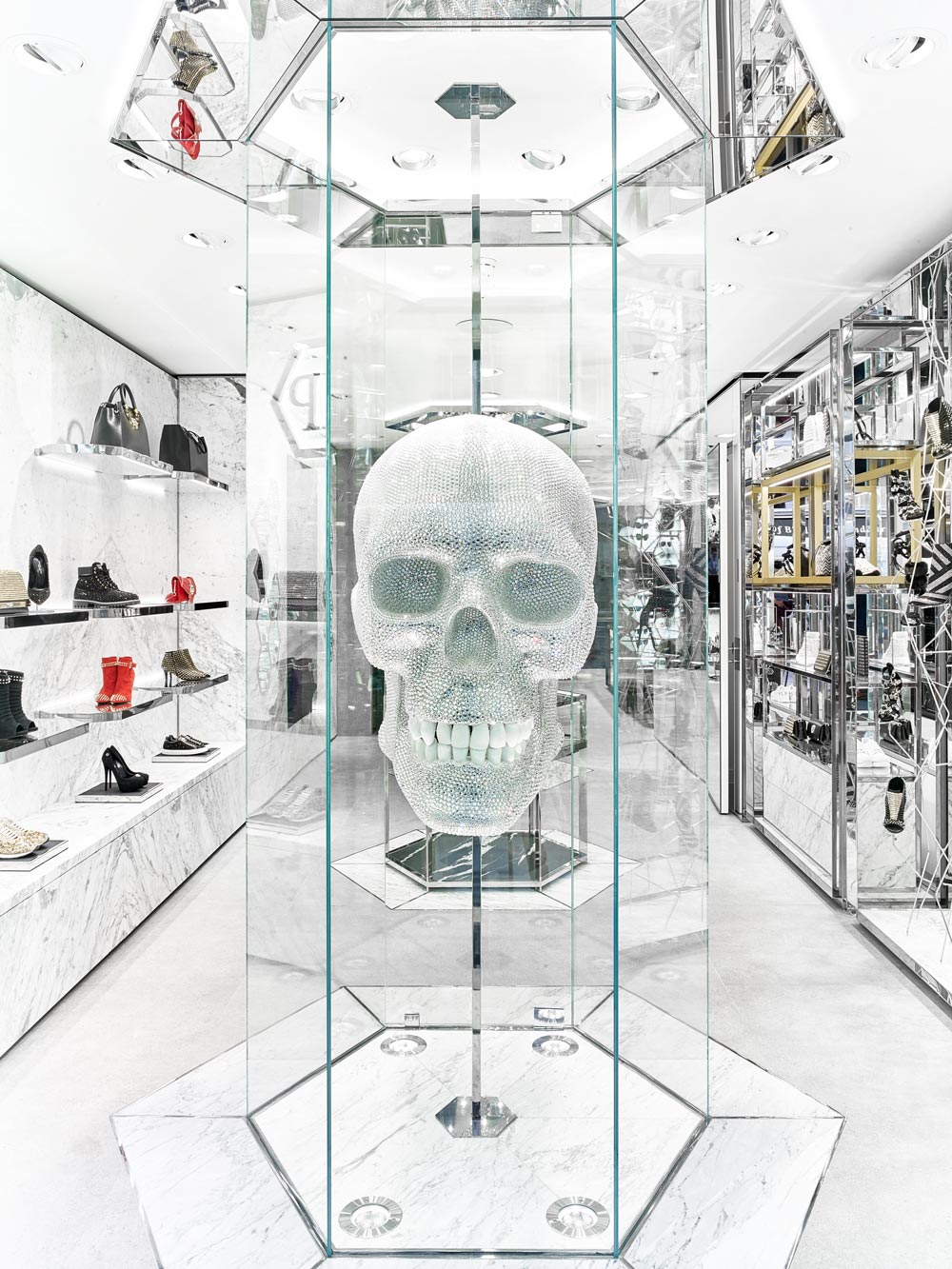 A crystal-encrusted skull welcomes 'followers' of Plein at the entrance to the store. 'Philipp is maximalist,' says architect Claudio Pironi. Photography: Christoffer Rudquist
Italian architect Claudio Pironi designed the 420 sq m space and has worked with Plein on 90 boutiques around the world. 'I have never had more limitations than in Mayfair,' Pironi says, which makes his hexagonal marble staircase, with its cantilevered landings and half landings, all the more impressive. 'It was an extremely difficult and complex space.'
Pironi is well versed in fashion retail, having worked with labels such as Casadei, Les Copains and Corneliani. He started collaborating with Plein almost four years ago and it would be hard to find a more unlikely pair. 'Philipp is maximalist and I'm not, so sometimes it's difficult to harmonise our vision,' explains Pironi, who cites Le Corbusier and Mies van der Rohe among his passions. 'His former store concept was too much. We needed to tone it down a bit, introduce some geometry and make it lighter.' The resulting boutiques feature black and white marble (for menswear and womenswear respectively), lots of glass and stainless steel. At the entrance to each shop, Plein 'followers' are greeted with a trademark crystal-encrusted skull – 'a symbol of worship'.
'Philipp is very smart and has very strong opinions, and it's challenging working with him, not least because there's no standard customer,' says Pironi. Within the luxury arena, Plein is seen as something of a democratic designer, a new kid on the block unfettered by the fashion world's snobberies, hierarchies and unspoken conservatism. He's unconcerned about whether his customer is a cleaner from Ecuador blowing a year's savings on one dress, or a Formula One superstar buying three £5,000 leather jackets. 'Philipp is a strange event in the fashion world because he doesn't respect the status quo,' says Pironi. 'From the outside, it seems to be a world that is very creative, incredible, fantastical. But inside it's as conservative and closed as any other industry. There is a lot of envy. A lot of shit. Philipp does what he wants and doesn't fear anyone.'
'The secret of the fashion industry is that there is no secret,' announces Plein. 'It performs like an old-world economy – everyone uses the same materials, the same suppliers, the same models, PRs, magazines and photographers. Many brands don't listen to the market. It's crazy that winter shoes go on mark-down in December and that summer shoes arrive in stores in the winter. They design for the glamour and shine, not for the customer. I am part of a new generation that has the opportunity to do things differently.'
The hexagonal marble staircase features cantilevered landings. Hexagons are a Plein motif, adorning everything from furniture to ceiling roses to the designer's logo. Photography: Christoffer Rudquist
This includes spectacular, budget-breaking runway shows, which this year migrated for the first time from Milan to New York. Plein currently collaborates with British set designer Simon Costin, who worked with the late Alexander McQueen throughout his career. So far the duo have created fantasy worlds inhabited by fire-breathing trucks, live hawks in flight, and models who are often naked and invariably caged, armed or suspended from the ceiling. 'Philipp always has some mad scheme, but he's very collaborative,' says Costin. 'Working with him reminds me a lot of my days with Lee [McQueen]. He has huge budgets, which is exciting and unusual in this day and age. His shows are done with such gusto you have to take your hat off to him.'
Last year, Costin created an 'immersive presentation' at Plein's villa in Cannes to celebrate the purchase of the designer's majority stake in Billionaire Couture, the luxury men's label started by Formula One's Flavio Briatore in 2005. 'I had rooms with performers, naked models, a gigantic champagne tower and a team of fencers duelling for the hand of a naked woman,' Costin recalls. 'All the guests were given masks to wear and allowed to wander from room to room, and all the male models were over 50 and looked like the members of a very exclusive club. It was quite a night!'
On Planet Plein, there's no boundary between work and play; the designer's homes are alternately workspaces and venues for brainstorming, partying and testing out his architectural whims. He recently purchased a mansion in Bel Air that once belonged to entrepreneur, film producer and polymath Howard Hughes. With its unimpeded view of the ocean, it is Plein's dream renovation project and will cost $90 million and take three years to complete. Neighbours include Jennifer Lopez and Elon Musk, the founder of Tesla Motors. Plein has met the former and feels an affinity with the latter. 'The automotive industry is like fashion in that it's very protected, competitive and filled with jealousy,' he says. 'No one apart from Musk has succeeded in launching a new brand. They didn't take him seriously, but he proved them wrong.'
In 2011, when Plein was still seeking acceptance into Italy's governing body of fashion, Camera Nazionale della Moda Italiana, which he gained in 2013, he filled the church of San Paolo Converso in the centre of Milan with hundreds of white roses, as part of his S/S 2012 womenswear show. Today the church is occupied by architecture firm CLS, which, by coincidence, is designing the new Plein Sport boutiques. Picking up where top-end Nike stops, Plein Sport ventures onto luxury turf with technical sports gear you can actually exercise in. Around 60 Plein Sport stores are scheduled to open in 2017, and CLS has created each as a 'sports playground', with basketball pitches, LED floors, cyber mannequins in the windows and bespoke punch bags, weights and benches. 'Philipp came to us last July with the idea for mono-brand sports boutiques,' says CLS founder Massimiliano Locatelli. 'There are so few people in the fashion world that have the vision and courage to do things.'
'At the moment, fashion is my passion,' says the ever-restless Plein. 'It keeps me busy and gives me the freedom to do what I want. I have the playground in which to create events, shows, dreams. I don't know how to build cars. Not yet, but you never know.'
As originally featured in the March 2017 issue of Wallpaper* (W*216)