Walk this way: Paul Andrew steps up for his debut Salvatore Ferragamo shoe collection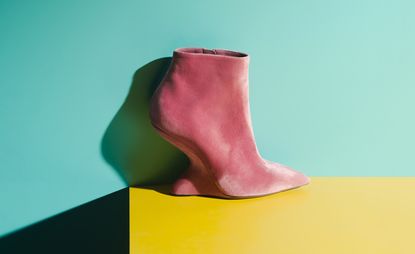 (Image credit: Salvatore Ferragamo)
'There are 15,000 pairs of archive designs at the Salvatore Ferragamo (opens in new tab) museum in Florence,' enthuses Paul Andrew, appointed the house's first design director of women's footwear last September. 'To be given the keys to that as a shoe designer, is the most precious gift.' Similarly, the British-born, New York-based designer's association with the Italian house is the gift that keeps on giving.

'I've come across some of the most incredible shoes,' adds Andrew, who founded his own shoe label in 2012. 'Salvatore Ferragamo was such an innovator and pioneer.' It was in 1919 that the Italian shoe designer (who had emigrated to Boston in 1914), relocated to Santa Barbara, opening a boot shop that catered to the glamorous desires of the Hollywood elite. Eight years later, Ferragamo returned to Italy, establishing his eponymous company in Florence.

His designs were architectural, modern and revolutionary, from the 1938 cork wedge heel, covered in layers of colourful suede and designed for Judy Garland, to 1947's 'Invisible Sandal', with an undulating F-shaped wedge heel. Ferragamo also focused on comfort, studying anatomy while in the United States. 'Before him, a shoe was just something your foot used as a function to walk outside,' Andrew says.
In his debut collection for the house, Andrew has taken the tropes and silhouettes ubiquitous to Ferragamo, and updated them using innovative manufacturing process and materials. The F-shaped wedge has been reimagined in suede and velvet variations – soft pink velvet heels with elegant ankle straps or ankle boots in the house's signature black and gold – using an intensive, newly developed moulding process.
'Ferragamo was using state of the art technology during the twenties and thirties, and enhancing it with beautiful Italian craftsmanship' Andrew explains. 'My idea was to turn back to those attentions. The velvet upper of the F-shaped wedge is woven in an artisan factory in southern Italy. The heel is moulded in plastic and sent to a car factory and galvanised with a special metallic coating, which is super light yet durable.'

Working with one of his four brothers in Boston, Ferragamo himself spent time in a cowboy boot-making factory. This industrial endeavour is also seen throughout Andrew's collection. Sporty tech-knit ankle boots, crafted in graphic micro stripes, were created in a trainer factory.

Sock-like uppers that form part of a golden cage sandal design – a reinterpretation of Ferragamo's 'Kimo' style (below) – were also produced there. The original Geisha-inspired sandal, launched in 1951, was sold with a selection of interchangeable colourful socks.
'The foundations of Ferragamo were also formed on best fit and comfort,' Andrew says. 'The upper is weaved with a technical cotton and nylon yarn. It has amazing memory, you can put it on a thousand times and it will never lose its stretch. It's one of my favourite shoes in the collection.'

The renowned bow-detail 'Vara' shoe, launched in 1978, has also been updated. 'It was really important for me to take that forward and introduce it to a new generation of customers'. Andrew says. 'I've made several versions. For the bow itself we've used a nylon yarn, which meets the high-tech, high-craft aim we have for the brand. The heel itself has also changed. We're calling it the "Flower Heel", based on a design from the thirties. It's been galvanised in a car factory, with horizontal striations to resemble grosgrain ribbon.'

Cutting-edge technology aside, Andrew's artistic intentions have also resulted from accidental creativity. Sandals, boots and mules have been crafted in a colourful and multifaceted fabric pulled prematurely from a loom operated by artisans in Naples.

'I wanted to weave a particular textured fabric,' Andrew says, 'but it just wasn't working. When we opened the loom it pulled out the yarn with this fine twined effect. I asked the weavers to continue doing this and that's how we made the fabric. The foundations of Ferragamo were built from incredible design. That's one of the things I feel a wonderful connection to.'
INFORMATION
For more information, visit the Salvatore Ferragamo website (opens in new tab)