Man about town: on the ground in Florence for Pitti Uomo's 89th edition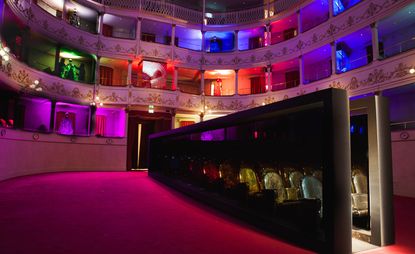 (Image credit: Marco de Vincenzo)
Come rain, windstorms (upon arrival), or delightful pockets of winter sun, the biannual Pitti Uomo trade fair is always a mixed bag: a global fashion crossroads sandwiched between London Collections: Men and the Milan shows that celebrates all things denim and dandy on the menswear scene. Now in its 89th edition, Pitti has cemented its foundations as the world's premier tradeshow, and rolls out an enticing programme of industry events each season with the help of a rotating roster of international designer guests.

With mounting overseas attention towards Seoul's creative landscape, the Korean designer Juun.j seemed an apt choice as Pitti Uomo's guest designer, who relocated his A/W 2016 show from the Palais de Tokyo in Paris to the Stazione Leopolda – a neutral, bunker-like space that rather reflects Italy's brutalist side than its Baroque.

Vegetal leather notepad invites embossed with gilded keywords pre-empted the designer's exultation of Florentine artisanal leatherwork, which manifested itself in exaggerated motocross shapes alongside long-line tailoring. Both were embroidered or patched with a barrage of aggressive logomania. 'Viewless', 'paradigmless', 'genreless', and 'formless' were some of the adjectives cobbled together from Juun's show title '-less', complementing the monochrome, futuristic uniform that he explored in monotonous iterations, often falling from an ungainly wide shoulder or ending in a swirl of slashed hemlines and long knitted scarves.

In a rousing finale, Juun.j called upon the 68-year-old Japanese painter Hajime Sorayama to embellish thick pile reverse shearling coats – one for every boy – with his futurist skeletons and robo-erotica, providing a striking graphic segue to the designer's melting pot of cultures and clothes.

While the Pitti invitation shed new light on Juun.j's oeuvre, it was into the dark that womenswear guest Marco De Vincenzo beckoned his guests – taking over the Teatro Niccolini for a demi-couture leather installation he entitled 'In-Lusionem'. De Vincenzo crafted 21 unique outfits for the event, positioning harlequin-striped suede capes and bristling tinsel coats throughout the theatre in glass vitrines on stage or peering from the rainbow-lit balconies above. Celebrating his signature ombré colour effects, an optical illusion of gradient metallic theatre seats by Patrizio Travagli beckoned guests to the centre of the room, where upon sitting in the enclosure would find their reflection infinitely multiplied against the tinted glass panels either side.

Theatrics were the order of the day at the Adidas Originals show too, which unveiled their first collaboration with the Japanese streetwear label White Mountaineering. Here the clothing faced moments of serious obscurity, as an intricate system of pulleys lowered fluorescent triangles of blue beams around each model. The effect was of a futuristic body scan, matching designer Yosuke Aizawa's alpine chevron addition to the three-stripe logo that was emblazoned across precisely taped and bonded track gear. The densely layered collection ensured Aizawa's techno-Americana spirit remained assuredly intact, focusing on bulked-up down jackets, a blurred camo check combo, and whiffs of military styling – all elements that speak directly to the sportif evolution of 2016's peacocking Pitti gentleman.
INFORMATION
For more information, visit Juun.j's website (opens in new tab), Marco de Vincenzo's website (opens in new tab) or White Mountaineering's website (opens in new tab)