Pitti Connect: sustainable fashion in focus
Pitti Connect, Pitti Uomo's first digital-only showcase launches, bringing together menswear industry insiders from around the world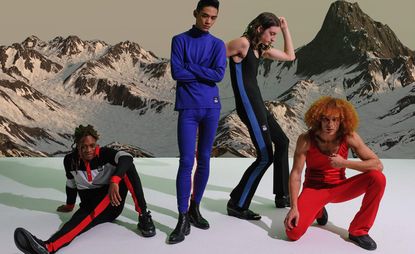 (Image credit: TBC)
Pitti Uomo usually hosts nearly 1500 brands and retailers at its seasonal trade fair in Florence, where luxury and high street behemoths, buyers, stylists and journalists from around the world descend in stylish droves on the Italian city's Fortezza da Basso venue. But for A/W 2021, it's 99th showcase named 'Pitti Connect', which has already seen a number of schedule reshuffles in the wake of the ever-evolving Covid-19 crisis, was held entirely online.

For A/W 2021, 'Pitti Connect' celebrated the global network of insiders intrinsic to the seasonal menswear trade fair. The two-day digital event opened with a roundtable discussing the meditative and timeless nature of Scandinavian design, with panellists including Soulland's Silas Adler and Storm Copenhagen's Rasmus Storm, hosted by Scandinavian Mind. Pitti Connect's online showcase also placed focus on exhibited brands with Exhibitor Spotlights, featuring Herno and Brunello Cucinelli and invited international buyers, from Bergdorf Goodman's Bruce Pask, to Wood Wood's Jens Wiinblad, to select their top pieces from the overall autumn offering. Live videos also featured, with brands including Ten C, debuting their autumn offerings through film.
RELATED STORY
In a focus most traditional of Pitti Uomo's menswear offering, Pitti Connect focused primarily on performance, sportswear and tailoring brands, including Lardini, Kiton, Ten C, CP Company and Colmar Originals. Particularly notable was the second iteration of its Sustainable Style initiative, which invites 15 global designers, curated by fashion journalist and talent scouter Giorgia Cantarini, to create environmentally and socially responsible clothing collections.

For A/W 2021, this included Myar, Yatay and Uniforme Paris. The initiative also saw American Paris-based designer Spencer Phipps awarded the Reda x Sustainable Style award, for a micro menswear collection of vintage alpine wear. For the collection, the designer was inspired by silhouettes in the 1979 film All that Jazz, directed by Bob Fosse, and created pieces in merino wool in collaboration with wool sports specialists Rewoolution.
INFORMATION