The homely mid-century stylings of Nanushka's new London boutique
The Hungarian label opens a home-inspired townhouse flagship in Mayfair, designed by Paris-based Festen Architecture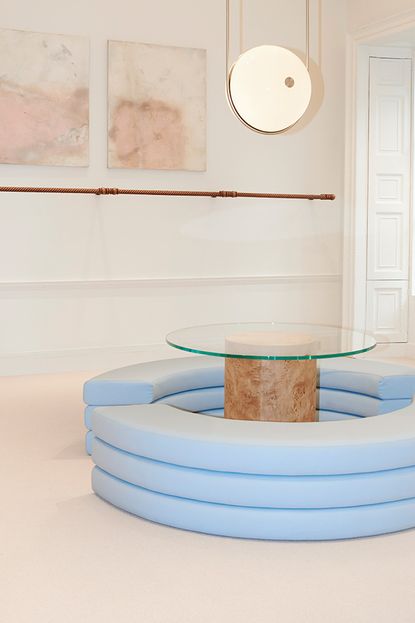 (Image credit: Lucy Sparks)
In recent years, brands and boutiques have looked to the multifunctional retail space – one that doesn't just sell luxury wares, but encompasses an entire lifestyle. In London, Matchesfashion's five storey townhouse on Carlos Place is the site of pop-ups, events and a top floor cafe, while Loewe's flagship on New Bond Street, is inspired by the home of a collector, populated with ceramics and sculptures that evoke the Madrid-based brand's art-inspired aesthetic.

When Nanushka's Sandra Sandor was conceiving her first flagship in the UK's capital, the concept of the home was paramount to the Hungarian designer. The majestic multi-floor 520 sq m space, located on Bruton Street in Mayfair, has been conceived as a serenely-hued house (just like its New York and Budapest spaces), complete with cafe, lounge-inspired rooms and an indoor garden. It was natural then, that Sandor has worked with Festen Architecture, the Paris-based firm more associated with hotel design – including the Instagram favourite Hôtel Les Roches Rouges on the French Riviera – for the flagship's interior. 'Their vision of design and living are very close to our heart,' say Sandor and Nanushka's CEO Peter Baldaszti. 'Good retail is about hospitality, not selling more'.
Selling more happens to be something Nanushka is also well versed in. Despite the financial and social implications of the Covid-19 pandemic, the brand has experienced 15 per cent growth this year, in part due to the popularity of its well-priced vegan leather. Nanushka's men's and women's collections, which for A/W 2020 feature fluid silk dresses, double-breasted suiting and vegan leather puffer jackets in 1970s shades – are showcased within the space. This is populated with striking mid-century furniture by Fabio Lenci and fellow Hungarians Paul Laszlo and Marcel Breuer, which is juxtaposed against original 19 century features, including Modillon cornices and ornate Rococo architrave chimneypieces. Custom furniture includes a periwinkle blue crescent shaped sofa, formed from regenerated leather. 'We introduced a new technique in our autumn collection,' say Sandor and Baldaszti, 'that sees scraps of leather pressed together.'
RELATED STORY
The Forbidden Cloister ring set
Other design elements in the space nod to Nanushka's Hungarian heritage, including timber totem poles or 'kopjafa', which complement hand carved clothing rails and a wood and ceramic Shogun table by Roger Capron. 'These are well-known and traditional cultural symbols originating from Hungary and its surrounding countries. Originally, they were used as headstones, and nowadays they are used as memorial columns calmed by artisans,' say Sandor and Baldaszti. Vintage elements also reference the brand's eco-aware output, which for autumn features not just vegan leather but recycled wool and cady, a material sourced from sustainably managed forests.

'Our stores have coffee places incorporated into their spaces as historically, Budapest was one of the most important birthplaces of coffee house culture together with Vienna,' they add. Nanushka's flagship even has muti glaze porcelain cups crafted by Sandor herself and produced in collaboration with Natalia Nemes of Noha studio. 'We want to make it feel like you are stepping into our home, where you feel comfortable to sit down and have a cup of coffee or tea.' We're drinking everything in.
INFORMATION
nanushka.com (opens in new tab)
ADDRESS
30 Bruton Street
Mayfair
London
W1J 6QR