Monc is the sunglasses label to set your sights on this summer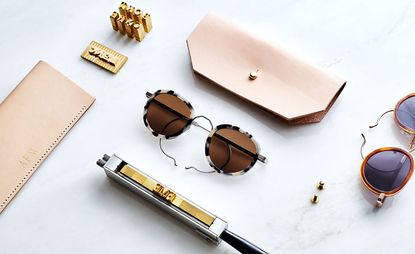 (Image credit: TBC)
It was a pair of Persol frames that first piqued Freddie Elborne's interest in opticals. 'My dad had a really old pair,' says the founder and creative director of the London-based sunglasses brand Monc. 'When I was young I considered them a real style piece.'

Fast forward to 2016, and Elborne had quit his Cambridge-based job at a design agency – where he worked across retail, packaging and product design – moved to London, and launched Monc. 'I thought to myself, "are you seriously going to put your all into this, commit, and take a huge risk"', he says.

Luckily, it was a gamble which paid off. Elborne's craftsmanship-focused label offers a range of timeless and versatile unisex styles, from the scholastic circular framed 'London Fields', which also feature extended earpieces, to the aviator-inspired 'Kreuzberg', which boasts a sleek metal bridge. 'The shapes came out of a huge research task I undertook during the year I was designing. They're inspired by people I met along the way.'

Elborne fused tradition with technology in his quest to find the artisans that would design his frames, searching the hashtag #HandmadeInItaly on Instagram. 'I emailed 50 related brands,' he says. 'Five of them came back to me, and one offered to take me to their factory. The next week I flew out to Naples and went to a tiny village with a welcoming family-run workshop.'

As part of his research process Elborne also looked into the accoutrements that come with opticals. As well as UK-produced tanned bovine leather sunglasses pouches and micro-fibre cloths – 'hard cases are great on holiday, but often too big for your everyday bag' – each frame comes with a practical pocket-size tightening screwdriver. 'I didn't want to leave any stone unturned when I launched the designs,' he says. 'Our maintenance kit ensures users can keep everything safe, tight and fitting well.' Now that's a brand mantra worth setting your sights on.
INFORMATION
For more information, visit the Monc website