Miu Miu celebrate their new London flagship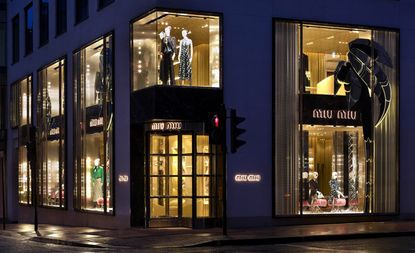 (Image credit: Nick vinson)
Last Friday (3rd) saw the opening of the new London Miu Miu flagship on the corner of Bond Street and Bruton Street. An upgrade not only in terms of square footage (3x the original) but also, without question, in terms of location.
To celebrate the opening, Miuccia Prada hosted a dinner at Lancaster House in St James's. The neoclassical Grade 1-listed building, built for the Duke of York and Albany in 1825, was as suitably dressed for the occasion as the Miu Miu- and Prada-clad guests.
In the main hall as Zaha Hadid, Terry Gilliam, Francesco Vezzoli, Germano Celant, Mr Hudson, Mark Ronson and Nicholas Serota sipped their champagne coupes and nibbled the mushroom vol-au-vents, a pianist mimed Mozart's Sonata in F Major (he had been requested to hit the 'silent mode' pedal) and an actress sat at a games table attempting a large jigsaw - the pattern was a faithful reproduction of the liberty-style flocked wallpaper that clad the Miu Miu store.
Up on the 'piano nobile' (first floor), set designer Martin Childs invaded the state rooms, originally designed by Benjamin Dean Wyatt, Sir Charles Barry and Sir Robert Smirke, with a hand-picked heist of furniture and objects that added a playful yet slightly cryptic bent to the visual impact.
In the Music Room tables were set up for canasta, draughts and chess (antique games also doubled up as table décor) and huge archery targets created a popish backdrop. The Long Room was laid out as a library with one long table seating 90, decked out with writing inks, stamps, quills and ink blots, whilst lampshades had oversized type blotted on them. The State Drawing Room had a decadent oriental feel with terracotta Chinese Army figurines lined up along the dining tables and Chinese antique porcelain birds and furniture decorating the room.
The langoustines, saffron risotto, braised artichokes and spinach flan were prepared by Chicco Cerea, the celebrated chef from Da Vittorio who flew in especially from Bergamo, and served on an eclectic selection of china and specially made placemats, which like some of the terracotta army no doubt made it home in the signature pink Miu Miu bags as 'souvenirs'.